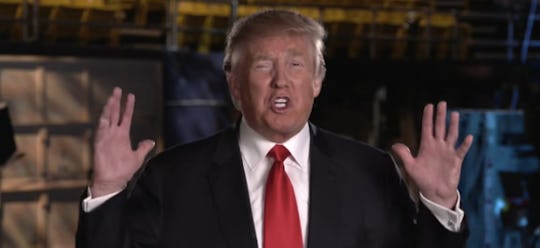 Watch Donald Trump's 'SNL' Promos, In Which He Calls Ben Carson A "Loser" Because Of Course
It's one of the most anticipated Saturday Night Live episodes since, well, I guess two weeks ago when Tracy Morgan made his triumphant return to Studio 8H. But, still, there's no denying that this Saturday's new episode is going to be huge because of a certain headline-grabbing host. And now that Donald Trump's SNL promo videos have been released, we got a little taste of what the headlines are going to be come Sunday morning. 
And the verdict? Well, they're probably going to say pretty much what you'd expect them to say. Because, in the promos, Trump delivered a performance you would expect. One in which he is a self-deprecating egomaniac who ruthlessly attacks his opponents. (Or just an egomaniac who doesn't realize he's mocking his own egomania.) 
We start with cast member Cecily Strong — who reiterated repeatedly that the ad could only feature Trump for less than four seconds at a time, thanks to the FCC — insisting that, "To make things extra fun, Donald has promised that for the whole show he is not going to brag or say he's the best at anything, right Donald?"
The retort: "That's right Cecily. And I'm going to do the best job anyone has ever done not saying it ... what can I say. I'm the absolute best."
Add that to a dig at Ben Carson (who is, as Trump said in the promo, "a complete and total loser"), and, yep. It seems Trump will Trump better than anyone else can Trump on Saturday. Well, except Taran Killam. 
Of course, there was one thing I didn't expect in the promo — the fact that Trump actually pulls of aviators. Like, better than I do.
More shenanigans from the presidential candidate will come on Saturday, and, if that doesn't float your boat, at least tune in for Sia, and start your obsession with This Is Acting before it even comes out.