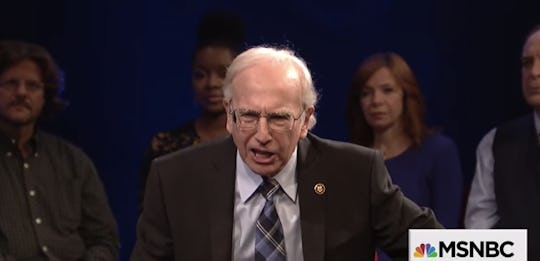 Watch Larry David's Bernie Sanders 'SNL' Cold Open, Because You Can't Just Watch It Once — VIDEO
So, last night's Donald Trump Saturday Night Live episode wasn't all it was, well, trumped up to be. Fans of the show (or those tuning in for the first time in ages for the much-hyped episode) unleashed tweets criticizing Trump's hosting duties, and Rockefeller Center still had to contend with dozens of protestors outside Studio 8H who panned the episode before it even aired. (All of them claiming, as Larry David "heckled" during Trump's monologue, that the host was a racist, something he has denied.) But there was one thing everyone could agree on — you need to watch SNL's cold open with Larry David as Bernie Sanders once again, because the Curb Your Enthusiasm comedian's first appearance weeks back just wasn't enough. 
Interestingly, the set-up of the sketch focused on Rachel Maddow's Democratic Forum debate from Friday night — a program that didn't quite command the attention of other debates from earlier in the campaign season. (Though ratings have not yet been released.) But even if not everyone might have understood specific references from the Forum that they likely didn't watch, there were still plenty of highlights in the sketch — Taran Killam pulling double-candidate duty as Martin O'Malley and, later, Trump, Kate McKinnon's hilarious bit of physical comedy as Hillary Clinton trying to look chill, and, of course, Larry David as Bernie Sanders. Honestly, if the statement, "I'm Bernie Sanders, and I want your vacuum pennies!" doesn't make it into your regular vernacular, then you're just simply not a true American. 
Watch the sketch below, even if you already saw it last night — because you need to wash down Trump with something refreshing. 
Image: NBC