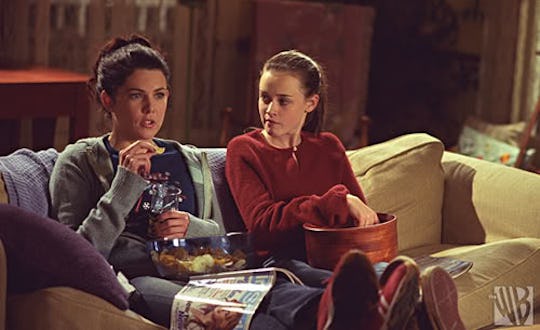 WB
Watching TV With Your Mom May Help Build A Stronger Relationship, According To Netflix
Who knew binge-watching a show could bring a mother and daughter closer than a bottle of Nutella? Lorelai and Rory Gilmore, of course — and Netflix has the data to confirm. The streaming service has recently done it's homework to support the notion that watching Netflix helps build stronger mother-daughter relationships. That's right, Netflix and chill is out, and marathon-watching the newest season of your favorite show with your mom is in. In fact, Netflix's survey concluded that "62 percent of mothers and daughters say sharing TV shows help build a stronger relationship."
The online mother-daughter survey was conducted via SurveyMonkey from October 28 - November 9, 2016. During the survey, 10,143 women aged 18-65 in the US, UK, Canada, Australia, Brazil, Mexico, Spain, France, Italy, and Germany were interviewed. Through the research, it was discovered that more than half of women (53 percent) wish they spoke to their mother more often.
Luckily for that 53 percent, Netflix is here to save the day, and assist in closing the communicative gap between mothers and daughters everywhere. Netflix's revival, Gilmore Girls: A Year in the Life, is aiming to spark conversation and connect mothers and daughters through comical characters and plots fans love. According to Netflix:
"More than half of mother-daughter duos surveyed (59 percent) report that post-show discussions are the best part of sharing a show together. In fact, watching together is so important that despite the distance, almost half of moms and daughters (41 percent) think watching together brings them closer."
Gilmore Girls has always known the above, bringing the Rorys and Lorelais of the world together. The blood-related dynamic duo constantly crack "show-inspired inside jokes and witty one-liners." The two exemplify the fun people can have away from the small screen, after digesting the same scripts.
The survey also uncovered that "almost equal portions of mother-daughter relationships fall into the following three groups." The first group is the "Rory and Lorelai" group. 39 percent of respondents say they fit into this group, considering their mother/daughter relationship to be very much like Lorelai and Rory's — two peas in a pod.
The second group the survey considers is the "Lane and Mrs. Kim" group. These mother/daughter relationships are made up of two women who are polar opposites. They want the best for each other, but fans of Gilmore Girls know that sometimes they don't necessarily see eye-to-eye. And finally, there's the "Lorelai and Emily Gilmore" relationship, that is made up of mothers and daughters who have a "complicated" relationship. As the survey says, while it might be complicated, "they can't imagine life without each other."
So what are you waiting for? Find out which group you and your mother identify with when Gilmore Girls: A Year in the Life premieres on Black Friday on Netflix. Grab the twizzlers, popcorn, and of course, pop-tarts, to have a mother/daughter-infused Netflix date of your own.