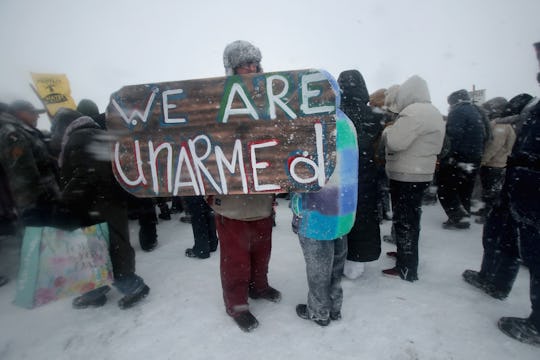 Scott Olson/Getty Images News/Getty Images
How To Support Native Groups Affected By Pipelines
President Donald Trump's executive orders this week have covered a lot of ground, but there was a noticeably severe push for the Keystone XL and Dakota Access pipelines. Despite the environmental detriments induced by such a measure (which are both vast and well, permanent), key parts of these pipelines will target Native Americans almost exclusively. If you're looking for actions to offset this hurt and help prevent it from happening, you'll want to keep up with all the ways to support native groups affected by oil pipelines.
The Standing Rock Sioux tribe has been actively opposing, along with other natives and protestors, the construction of the Dakota Access Pipeline (DAPL), as they believe that its making would impact both their water supply as well as sacred burial sites. After the project came to a pause at the hands of the Army Corp of Engineers, leaders of the Standing Rock Sioux tribe asked that protestors return to their respective homes while the tribe focuses on its next legislative steps to combat the DAPL.
In addition to leaving the immediate area, outside supporters have been asked to submit "potential issues, concerns, and reasonable alternatives that should be considered" in an Environmental Impact Statement (EIS) surveying the DAPL. A Standing Rock Sioux Facebook post also asked that supporters contact their congressional representatives, informing the representatives of their disapproval of the DAPL.
The Keystone XL Pipeline was also opposed by Native American groups. President Barack Obama vetoed it in 2015 — a decision that Trump has now overturned. In wake of Trump's recent executive actions, though, Tom BK Goldtooth, the Executive Director of the Indigenous Environmental Network, provided a statement reacting to both measures, saying:
The actions by the president today demonstrate that this Administration is more than willing to violate federal law that is meant to protect Indigenous rights, human rights, the environment and the overall safety of communities for the benefit of the fossil fuel industry.
If Trump does not pull back from implementing these orders, it will only result in more massive mobilization and civil disobedience on a scale never seen of a newly seated President of the United States.
Goldtooth is calling for more protesting which, then, would likely require the physical support of those willing to fight against the pipelines' construction. Civil disobedience to oppose Trump's executive order are key, starting with a rally that was held in Washington, D.C. on Tuesday. Calling congressional representatives and signing anti-pipeline petitions are other ways to show proper support. Finally, following the Standing Rock Sioux Tribe's updates on Facebook as well as statements from the Indigenous Environmental Network will likely articulate the needs of indigenous people, as those needs emerge. Given the grave nature of a harrowing situation, the more help, the better.