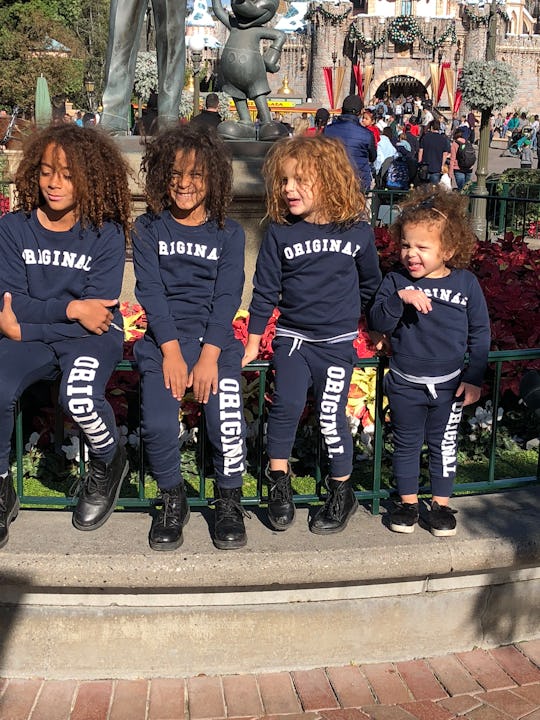 Photo courtesy of Alexandria Campbell
We Had More Kids So We Wouldn't Have To Play With Them
One revealing day, our 9-year-old son Phoenix was sent home from school with a fever of 99.5 but miraculously recovered from all symptoms once he got in front of the Xbox. So I'm trying to work, my husband is trying to work, and Phoenix has set up camp in the "office" with his Xbox and has interrupted us no less than 25 times in the first hour to show us some hybrid combination of a soldier from Halo and a Minecraft house thing he built or shot. After about the 27th interruption, my husband turns around and says to me, "Remember why we decided to have more kids?" "Yes. To avoid having to actually interact with our kids on their level," I responded.
Almost 10 years ago my husband and I found ourselves barely escaping the teens (well, me actually, not so much him) and pregnant and not having a clue what to do. We had just moved in together — hadn't even celebrated our first dating anniversary yet — but here I was 19, barefoot, and pregnant.
After we had Phoenix, we went back and forth about whether to have more children. At first, I was still so young, and so was our relationship, that we felt we should probably wait a little bit longer before we added more children. But as the months and years went on it became more about loving the idea of being just a one-kid family. Both of us grew up in large families and loved the ease that just one kid brought. Plus, Phoenix was just the sunshine of our lives and we couldn't imagine any other kids being as perfect as he was. So we held off on having more children.
Back when Phoenix was born, he came into a world brimming with my many siblings — the youngest being 9 and 7. That's still the age where building forts, playing outside, and watching children's movies are magical. For two and a half years of Phoenix's life, he had playmates at the ready whenever he wanted to play, which meant his dad and I didn't have to fill that role.
That all changed when we packed all of my shoes into 35-gallon storage containers, moved out of my parents' house, and hit the road to Los Angeles. Heading west, I had all of these visions of what our little family would look like all by ourselves in Hollywood. No little sisters to crowd us, a clear delineation of the adults in the house and the children in the house; no adult-children living at home. It would be just the three of us in this big city and I was ready. But boy was I naïve.
From the moment we touched down in L.A., Phoenix wanted us to entertain him. Can you even believe the audacity of that? We set up our little condo love nest with all of his toys in his own room but didn't anticipate that he hadn't had his own room for a year and wouldn't know what to do with one.
Every time we wanted to sit down, watch a show, and wind down after a long day of L.A. grind and grime, there would be Phoenix again, calling for us to come upstairs and play trains with him. Eventually, we just moved all the toys downstairs so he'd play by himself but still feel like we were playing with him, even if we were just going through the motions.
This kind of atrocious behavior continued for months. Even at parks where we would want to lazily hang under a tree reading a book like we used to, Phoenix kept calling for us to come slide with him or play hide-n-seek.
It was at the park after my husband had just promised Phoenix he'd come play with him in five minutes that he turned to me and said, "Don't you think we should have another kid so they can entertain each other, so we don't have to?"
It was like the angels started singing. Of course, that was the answer to our current problem! Phoenix wasn't used to playing by himself. He had never had to, and unless we gave him someone else to play with we would be stuck having to play tag, trains and Nerf guns for the rest of forever.
So we did.
We gave Phoenix three other playmates and it was the best decision we ever made. And we are quick to remind him of this whenever he wants to show us one quick thing on Halo or ask us how big we want our house in Minecraft.
I don't feel guilty about our reasons and I certainly don't feel guilty about not wanting to play with my kids. That's not to say that I don't play with them. Of course, there are times we do play together (even if those times are few and far between), but I don't believe my job as a parent is to entertain them.
I'm not a magician. I'm a parent. And if God wanted me to spend my days cranking out balloon animals, he wouldn't have blessed me with four kids.