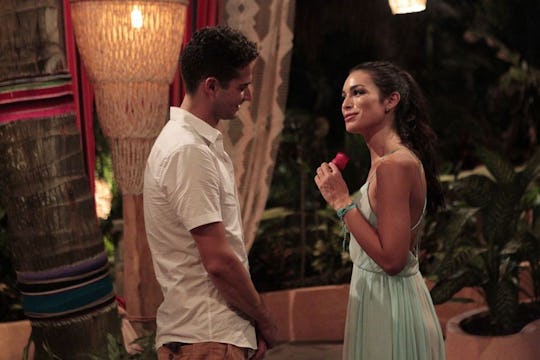 ABC/Rick Rowell
Wells Broke Up With Ashley On 'Bachelor In Paradise' & She Was Devastated
After the final official rose ceremony, it was crunch time on Bachelor in Paradise. Chris Harrison addressed the remaining couples – including Wells and Ashley – and discussed going to the fantasy suite and potential engagements. That, coupled with the fact that the men were talking to Wells about his "taking" (ugh) Ashley's virginity, made him freak out. He decided he could not stay in Paradise, and promptly left. Wells broke up with Ashley on Bachelor in Paradise, and she wasn't happy about it.
To understand why Ashley was so devastated, we have to rewind a bit. She was initially in love (and obsessed) with Jared – and had been since the last season of Bachelor in Paradise – but he had his sights on Caila. When Wells entered Paradise, then, Ashley jumped on the opportunity at another chance at love. They went on a date...and then Jami and Shushanna came to Paradise, and Wells went on dates with them as well. Even so, Ashley received Wells' rose at the ceremony.
Making it through the ceremony made Ashley believe that she and Wells could be in a relationship after Paradise. She probably (well, we can only hope) wasn't expecting to get engaged, but she seemed to expect to go to the fantasy suite with Wells – which would be the first time she would have sex. While she was discussing logistics with the other women, the men were unintentionally psyching Wells out.
This pressure, it seemed, prompted Wells to take Ashley aside and break up, erasing all her hopes of a post-Paradise relationship. After he left, she promptly left too, dragging her suitcase along the beach. As Chris Harrison put it, Wells "just couldn't see a future" with Ashley – and when you're on Bachelor in Paradise, you better be prepared to get engaged after three weeks if you expect to stay until the finale.
It looks like Ashley did not find the love she set out to when she came to Paradise for the second time, but judging by her Twitter, she was not as quick to go to the fantasy suite as the show made it seem:
Ashley seems just fine now after the break-up, and may even set her sights on a Bachelorette season of her own, as she retweeted this: