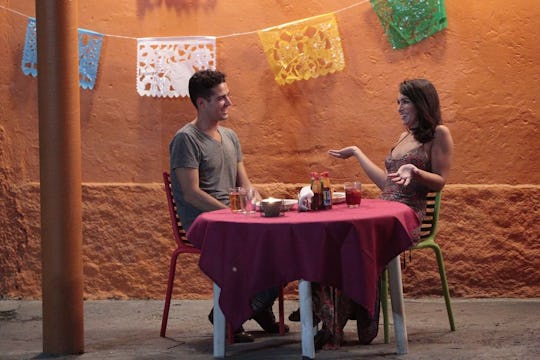 ABC/Rick Rowell
Wells Joins 'Bachelor In Paradise' & Twitter Is Just As Excited As Ashley I.
Ashley I.'s been having a bit of a rough go on Bachelor in Paradise. First Jared chooses Caila over her...and when she tries to win him back, he chooses her again. And again. Previously, Ashley just cried over this apparent injustice. On Monday night's episode, she resorted to praying to her deceased dog (aka her best friend). Thankfully, her dead dog's spirit seemed to summon another suitor for her: Wells. Wells joins Bachelor in Paradise and Twitter is as thrilled as Ashley.
You may – just kidding, you definitely – remember Wells from JoJo's season of The Bachelorette. He made it to the final eight, and managed to do so without kissing JoJo. This apparently was a big deal, and once they did kiss JoJo didn't feel that spark – and sent him home. Despite this low point, Wells is clearly a gift to social media, and social media gladly accepts it.
Wells gained notoriety for being different from the typical Bachelorette contestant: he blew protein powder in a eulogy for Chad, he did not drink it. He is a radio host, not a "model" or "model/actor" or "erectile dysfunction specialist." Wells broke the mold, and because of that he became a fan favorite. This is why when he showed up in Paradise, Ashley wasn't the only one excited.
Twitter was immediately abuzz with reactions over Wells' entrance, and his and Ashley's subsequent date:
It seemed that initially, Ashley was faking her interest in Wells (which is super confusing, because come on, this is Wells. She said she's seen his Instagram – has he seen his amazing Snapchat presence?). Over the course of their romantic taco date, however, she said she can see falling for him. They even kissed, which is really fast in Wells-time:
Will Ashley and Wells end up in love? Maybe, but Bachelor Nation probably cares more about seeing Wells on their television more than their potential relationship. In that case, we'll be cheering Ashley and Wells on (while secretly cheering the pairing of us and Wells on).