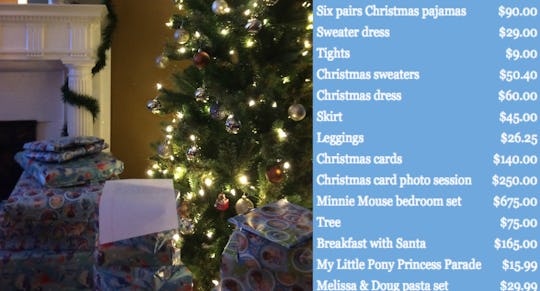 Courtesy of the author
We're A Family Living On $140,000 A Year, & This Is How Much We Spent On Christmas This Year
The holidays tend to light up our budget constraints like a Christmas tree — families make tough choices, and try to put on the best celebration they can for their kids. Romper followed several families as they approached the spendiest season, to see how they handled diverse budgets and wishlists this year.
Our family welcomed our second daughter just a week before Thanksgiving, so add to the holiday mix sleepless parents who are settling in with an extra baby who needs new stuff, an excited toddler who now wants specific toys, and a mom who is planning ahead for the financial implications of a 16-week sabbatical from work, and you've got a real game of Supermarket Sweep on your hands.
Family: A mom in her early thirties
Location: Washington, D.C.
Annual family income: approximately $140,000
Number of children: Two; a newborn and 3-year-old
Most people enter into Christmas shopping with a budget. I don't have a "budget" per se, but rather am using my days at home to take a much-needed, ongoing assessment of stuff we have have, things we can toss, and things that we need. As I purge items when the baby sleeps, our family's needs will dictate my TBD budget. But I've gotten started on a few things.
21 Days Until Christmas
Gap: $109 (Three pairs of toddler Christmas pajamas $12 each; sweater dress $20.00; Four festive infant one-pieces $12 each; tights $5; all 50 percent off)
My oldest daughter wears a uniform and many of her essential winter items from last season, like coats, hats and warm sweaters, still fit. Plus, the grandmothers love clothes shopping for now, so I don't want to spend unnecessarily on clothes that we don't need. I did, however, take advantage of Gap's Cyber Monday sale to purchase matching Christmas pajamas for the girls, as well as a new sweater dress for my oldest daughter.
Boden: $84 (Two Christmas sweaters $42 each; 40 percent off.)
In the past, I'd typically repurpose "festive" plaid from the fall to wear to the many holiday events we ended up attending, and I'd always splurge on one special outfit for a pricey "Breakfast with Santa" that we do every year. This year, I have the foresight to know that kids need a few special holiday outfits, and I don't need to break the bank to do it. So in addition to the Christmas jammies, I brought my oldest daughter two Christmas sweaters from Boden for the many events leading up to the holidays that I'm usually trying to find — and failing to find — at the last minute. I rationalized that the items are statement pieces and can be worn throughout the winter season, beyond Christmas and New Year's Day.
Wayfair: $775 (Minnie Mouse furniture set $675; 10 percent off Black Friday sale; $100 warranty)
Now, onto big-ticket items. We are co-sleepers for many reasons that benefit our family, and I am a procrastinator. In an effort to finally try to encourage our toddler to sleep on her own, we embarked on a room renovation just weeks before our newborn's arrival. The big-ticket items I've purchased to make her room appealing to her — much against my initial will to not have a character-themed room — have included a Minnie Mouse furniture set purchased on Wayfair with a 10 percent discount on Black Friday.
I emptied my cart of a bed frame and rocking chair for our room, which we share with our newborn. Those splurges can wait until I return to work. A new rocking chair is in order sooner, but I hope to catch an after-Christmas deal. We figure that my daughter needs a space she'll love to sleep in, and the youngest can grow into it if she quickly outgrows Minnie Mouse. We'll then convert the crib into a full-sized bed. The crib was gifted to us by my partner's mother, and is beautiful, durable wood from Pottery Barn Kids.
I am on the hunt for the hottest toys for my oldest kid, and a few small toys and winter clothing essentials for my youngest. My loose budget is no more than $500 for these items — harder than it sounds!
Running total: $968
10 Days Until Christmas
The fun part of adulting is playing Santa while meeting all other end-of-year obligations. For our family, this time also coincides with private preschool applications, playdates and parent interviews, meaning additional time and money.
I am truly the most last-minute of moms, but even I am down to the wire on gifts.
Nordstrom: $105 (skirt $45, snowman tunic $33.75, leggings $26.25)
A few more Mini Boden pieces were on sale, including a skirt that matches one of the sweaters I'd previously ordered. I also secured a snowman tunic and leggings — all-season attire, I don't care what anyone says.
Breakfast with Santa: $165
Every year we attend a fancy and intimate breakfast with Santa. My daughter loves it, as she gets up close and personal time with Santa. We love it for the fanciness. It's an excuse to dress up. Plus, there are ~mimosas~.
Christmas Card Photos: $250
I had an amazing photo shoot in October celebrating my pregnancy. I strategically selected fancy photos and a festive location that would be appropriate for our family's Christmas card photos. I secured a free photo shoot through a photographer I was following on Instagram, and they turned out perfect. We only had to pay for our photo selects, which was a steal at $50 per digital file, given that we didn't have a photographer fee. So my newborn is technically *in* our holiday photos!
Christmas Cards: $140 (75 cards, holiday discount, $25 gift card to apply)
Running total: $1,628
10 Days To Christmas
There are 10 days until Christmas and I haven't purchased a single toy, yet, or put up a single decoration. My family traditionally trims the tree on Christmas Eve, often breaking the rules and entering the new year with our recently-decorated tree still hanging in the corner of the living room.
The Grand Total
Activities: $165
Christmas cards: $390
Gifts for kids: $775
Clothing: $298
Total holiday spending at December 15: $1,628
Expected Total: $2,000
I have shopping carts with My Little Pony, Melissa & Doug and Doc McStuffins toys cached at various websites. I will have items shipped to the store and am applying a $350 maximum spending cap on the remaining gifts. Is $2,000 a lot to spend on Christmas? I don't know, we just had another kid, so double everything, right?
Previously: How much a mom of two spend on Christmas.
Check out Romper's new video series, Romper's Doula Diaries:
Watch full episodes of Romper's Doula Diaries on Facebook Watch.