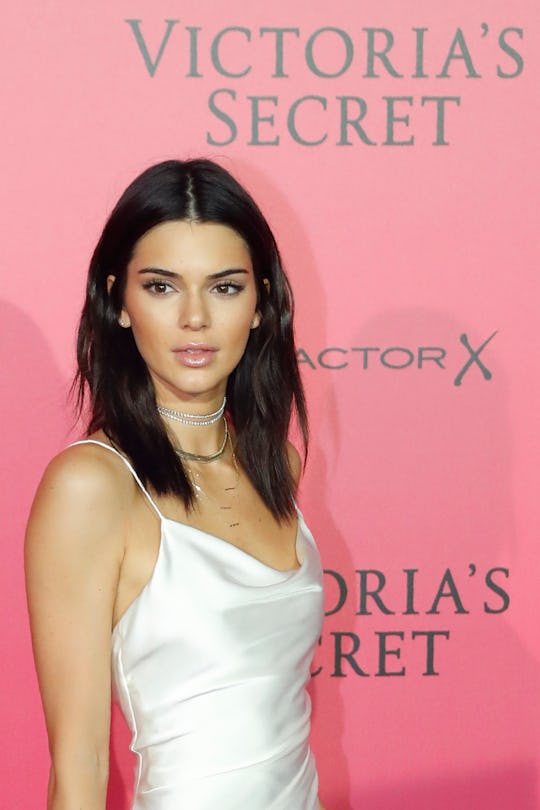 PATRICK KOVARIK/AFP/Getty Images
Were The Kardashians At The Victoria's Secret Fashion Show? Kendall Jenner Felt The Love
Even though Kendall Jenner's name is now synonymous with the Victoria's Secret Fashion Show, 2016 marked just the second time the young model took the stage to walk in the show. And judging from the support she received last year from her supportive, proud family — parents Kris and Caitlyn Jenner came to New York City last year — it's no surprise many wondered: "Were the Kardashians at the Victoria Secret Fashion Show?" It's easy to assume that the famous brood could pack up and head overseas with relative ease to watch their sister realize her dreams for the second year in a row, but coordinating the schedules of eight adults with incredibly different obligations and families of their own is way harder than anyone can imagine. According to PEOPLE, none of the Kardashians flew to Paris to watch Kendall walk in the 2016 Victoria's Secret Fashion Show. But just because they weren't physically present doesn't mean that their hearts, minds, and thoughts were far from their sister on her big, big day.
The Kardashians and Jenners have had an incredibly trying year as of late. Months ago, Kim Kardashian West was held at gunpoint and robbed in Paris. Then, just days before Kendall was set to walk in Paris, her brother-in-law, Kanye West, was hospitalized for "exhaustion." Entertainment Weekly actually caught up with Kendall before the show on November 30 to check in on Ye's health and confirm that her parents, brother, sisters, and nieces and nephews weren't waiting for her in the crowd. She told reporter Kevin Frazier:
It's [just] me. Yeah, no one is coming out but they're all — I've literally been texting with all of them, like, the past couple days.
And just because they were out of sight didn't mean that Kendall was out of their minds. She told ET: "Everyone's, like, freaking out, I got so many flowers from, like, all my family members. So, yeah, I feel the love for sure from L.A." And Jenner was quick to add that she felt the love from her friends walking in the show with her.
It's extremely comforting because these girls are genuinely my friends outside of work, outside of everything, so it's really awesome to be able to share that with them. Everyone is so supportive, which is really nice, because I feel like it could go the opposite and everyone's super cool and super supportive and everyone wants everyone else to succeed. So, it's really cool.
Unsurprisingly, Jenner's family took to social media immediately after show to gush over how proud they were of her.
So it's pretty safe to say Jenner felt the love from coast to coast and all over the globe. And when the show airs on television later tonight for the first time, it's not hard to imagine she'll be overwhelmed with support again.