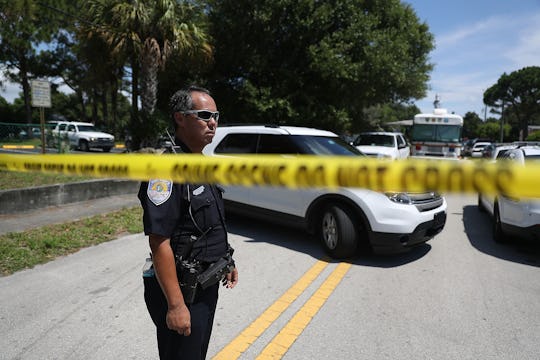 Joe Raedle/Getty Images News/Getty Images
Were The Tokyo Stabbings Terrorism? The Scene Sounds Horrific
On Monday, a man wielding a knife attacked people in an assisted living facility for the disabled with a knife. But authorities have not confirmed if the Tokyo stabbings are terrorism or not yet. There are reportedly 19 dead and more than twenty people injured, but there are media agencies reporting up to 50 injured. Staff at the home called police around 2:30 a.m. when they say a man lurking around the grounds. He allegedly then broke in and began attacking the residents. The facility is Tsukui Yamayuri En (Tsukui Lily Garden) facility in Sagamihara in Kanagawa Prefecture, south of Tokyo, according to The Guardian.
Update: The Sagamihara Fire Department reported late on Monday that the death toll in the Tokyo stabbing attack had risen to 19, with 24 of the 25 injured victims in serious condition.
The man is 26-years-old and turned himself into the authorities. According to NBC, the man is a former employee at the facility, so it probably isn't "terrorism" in the sense that it was inspired by any ideology. According to The Guardian, Japan's public broadcaster NHK said the suspect is "reported to have the family name Uematsu." So hopefully authorities will be able to get to the bottom of his motive for the attack after questioning.
A recent study found that violence in nursing homes or medical facilities is really common, but it's not usually the staff.
The study, done by Dr. Mark Lachs of Weill Cornell Medicine in New York, found that 1 in 5 residents experience verbal abuse from other residents. Most people tend to think that any violence in homes comes from the staff, but that's only a small percentage of the problem.
Dr. Lachs told CBS News, "[Abusive] staff should be arrested, fired, and prosecuted. But aggression between residents needs to be given attention. You're probably at greater risk than from a staff member —but we just don't have good numbers on that yet."
Although abuse from staff isn't something that should be ignored, either. According to a 2009 study, nursing assistants working in long-term care facilities have the highest rates of workplace violence than any other type of American worker. In fact, 27 percent of all workplace violence, across industries, happens in nursing homes. According to the U.S. Department of Health and Human Services Administration for Community Living coalition, 5 million older Americans are victims of neglect or abuse. For every case that is reported, they found, 23 cases go unreported.
Then again, the Tokyo facility was for the disabled and it's unknown that the ex-employee was somehow targeting his former patients in the attack.