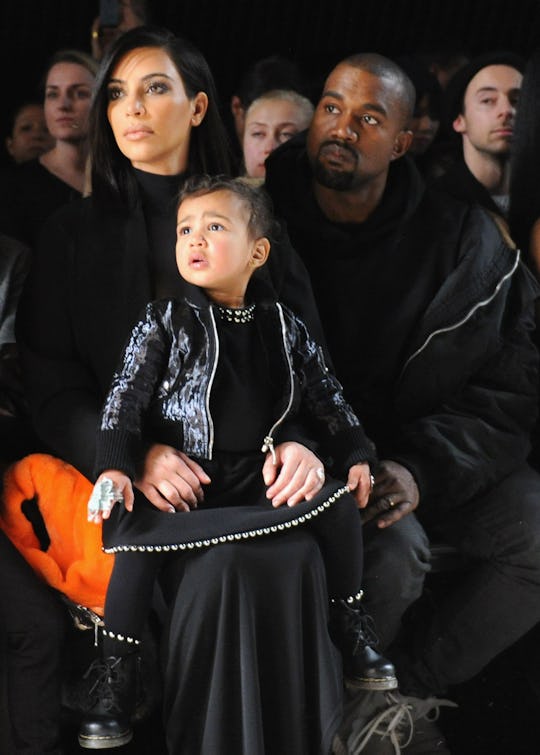 Craig Barritt/Getty Images Entertainment/Getty Images
All The Size Offerings In Kim Kardashian's Kids' Line
There are those of us who secretly wish we could dress like the Kardashian/Jenner sisters. Like them, don't like them, however you might feel, Kourtney, Khloe, Kim, Kendall, and Kylie have killer wardrobes. Then there are those of us who wish we could dress our kids like the wee Kardashians. There's hope for those people, thanks to Kim Kardashian West, because she's taken a break from her apps and delved into a new line of clothing for the little ones. Kardashian West's children's clothing line is available in a variety of sizes and, oh yes... insanely adorable.
Kardashian West told People magazine that she and husband, rapper Kanye West, have been making their own kids' clothing for years. And so, they thought they might collaborate on a new line of children's clothes. The two are parents to 3-year-old North West and 17-month-old Saint West. Their new clothing line, Kids Supply, features clothing priced from $22 to $240 in chic shades of black, white, olive, and grey with little pops of color like red and pink.
Kids Supply, which dropped on Friday, carries everything you need for a stylish kid about town. Whether your little one wants to hang out in track pants, or go jazzy in a ballerina dress, they, too, can pull off a Kardashian-level cool (if you have the budget for it, of course).
Kids Supply carries clothes in size 2 to size 7/8 for your little hipster. They can sport a "Calabasas" (inspired by Kardashian West's hometown) jersey for $55, which ships in 3-5 weeks:
Or they can channel North, who wore this $240 jacket on a recent outing with her mother:
Editor's Note: The Instagram post has since been deleted.
So far, the line is relatively small (just 16 pieces in total), and available exclusively online. But credit where credit is due here: If anyone knows about branding and marketing and such, it's the Kardashian/West family. Exclusive pieces for high prices? Sold, absolutely. Especially when adorably modeled by their daughter, North, whose mother said during a Snapchat video that "Norie picked out the colors and the fabric."
This isn't the first foray into kids' fashion for either of North's parents; Kanye's Yeezy line of shoes for kids and adults previously flew off the shelves, and Kardashian West's Kardashian Kids clothing line is sold at Babies 'R' Us, Nordstrom, Lord & Taylor, Zappos, and Hudson's Bay in Canada, and will likely go just as quickly.
It still might be a bit of a stretch to dress like a Kardashian adult for some of us. Or most of us. But you can dress your kid like they've got their own reality show and honestly, isn't that enough for us all?