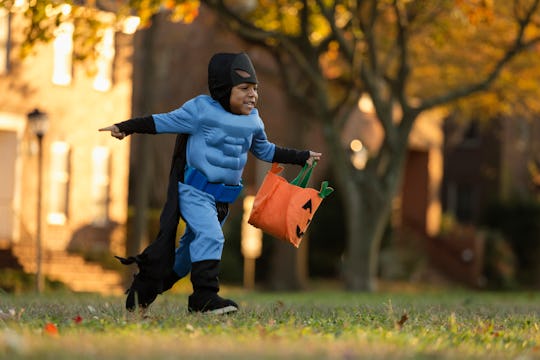 Roberto Westbrook/Tetra images/Getty Images
These 19 Cute & Creepy Treats Are Perfect For Putting In A Boo Basket
I'll never forget the look on my son's face last year when he came home from school to find a bag of Halloween goodies for him on our front porch. Filled with glowsticks, a skeleton straw, and a handful of creepy candies, we had no idea who it was from. The note left with the little bag just said "You've Been Booed!" We found out later it was a Boo Basket, a Halloween trend designed to let kids spread the spirit of the season with their friends. What are Boo Baskets? They just might be the next Halloween tradition.
Think of a Boo Basket like an Easter basket, but with a Halloween theme. And rather than gifting Boo Baskets to your children, your children secretly gift them to their friends, as Make It Grateful explained. This is done by leaving a Boo Basket on a doorstep or in a mailbox for the buddy to find. Then the child who finds the Boo Basket is instructed to keep the spooky fun going by gifting a Boo Basket to another pal. Each Boo Basket should contain a letter with something that reads like his:
Enjoy your treats!
Hang the "We've Been Booed" sign on your door!.
Put together a Boo Basket for a neighbor (include treats and extra Boo Printables) within two days. Be sneaky!
You can make your own letter or use the helpful template on Alice & Lois
Once you have a few of those printed out, you can build your Boo Baskets. Candy is a must, but it's also fun to mix up the contents with some other frightful products.
We only include products that have been independently selected by Romper's editorial team. However, we may receive a portion of sales if you purchase a product through a link in this article.