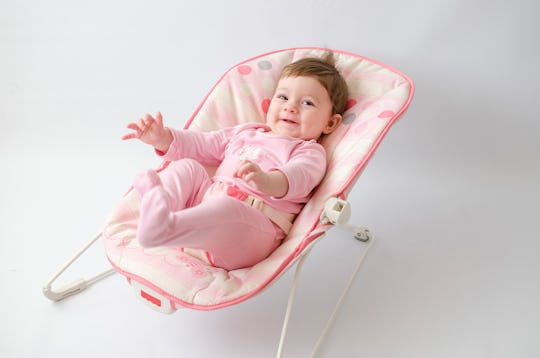 Dessie/Fotolia
Real Moms Weigh In On Why A Bouncy Seat Is Totally Necessary
If you're currently pregnant with your first, there are probably (understandably) a million gadgets, supplies, clothes, and toys on your baby registry. Keeping up with everything you could possibly need right after your child is born and you're homebound for a bit can feel like a lot of pressure. Those around you are also offering (sometimes unsolicited) advice, telling you everything you just "have to have" on your registry. So when your friend recommends something that looks like a seat in a spaceship called a "bouncy seat," you're probably wondering, "What are bouncy seats used for?" What you need is a quick introduction to the bouncy seat that not only your baby can enjoy, but you will, too — and it looks like your friends were right.
This toy can be enjoyed by you and your baby from day one. Since they aren't very mobile (at all) right when they're born, a bouncy seat could provide your babe with some stimulation and fun, and a safe reprieve for you if you need to eat or go to the bathroom.
At the beginning, babies enjoy their bouncers because they can look at those awesome dangly toys that are hanging down — while working on hand-eye coordination — and they can gaze adoringly up at your face. When they're older and stronger, they can even bounce themselves, making it a fun morning or afternoon for them.
According to Baby Center, there are several different options to choose from when picking out a bouncy seat for your baby. There are models that play music, move the baby around, vibrate, and more, and they come in different materials — in everything from plastic or metal, to wood.
Katie Warner, a mom in Atlanta, Georgia, says she loves her bouncy seat for her son Michael, because it "encourages hand-eye coordination, and is a great place to let your baby nap while you're cleaning or showering or even going to the restroom."
Lyndhurst, New Jersey mom Sara Troficanto says she used a bouncy seat a lot in maternity leave when she needed to pump and keep her son Miles occupied. "He was about 6 weeks, and was finally starting to let me put him down. I had to rock Miles to sleep, then place him in the bouncer to keep him sleeping so I could pump and eat something; it was a savior," she tells Romper.
So what features should you consider when registering for or purchasing a bouncy seat? According to Consumer Reports, it's best to make sure the bouncer has no sharp edges, has a three or five-point safety harness, and that if you use a hand-me-down bouncy seat, you make sure that it's not damaged or broken.
Baby Center suggested looking for the certification seal from the Juvenile Products Manufacturers Association to ensure it has met all the safety standards, and to check for any product recalls if you're using a hand-me-down seat.
Memphis, Tennessee mom Natalia Yarger tells Romper her bouncy seat saved her sanity when she first had her daughter Annabella. "I remember being on leave and my husband having to go to work, and I used it mainly when I was cleaning or cooking," she says. "[I also used it] when I went to the bathroom and no one could hold her, and when I was very sick after I had her. I had a cold, so I placed her in there a lot so she wouldn't get sick . . . that's when I used it [the most]," she says.
Sarah Darby, a mom from Canton, Georgia, says she used her bouncy seat mainly for bathing. "It is small enough to take in the bathroom, and Hazel was safe and happy while I was in the tub," she tells Romper. "The vibrate function was nice, too, for a baby that was mostly held. It was soothing."
Whether you get a bouncy seat that vibrates, has dangly toys, or both, it seems like it's a great item to include on your registry. When they're younger, your baby can improve their hand-eye coordination in this seat, and once your baby is older and stronger, they'll be able to safely entertain themselves while moving the seat up and down — all while you enjoy your lunch or even (gasp) a shower.