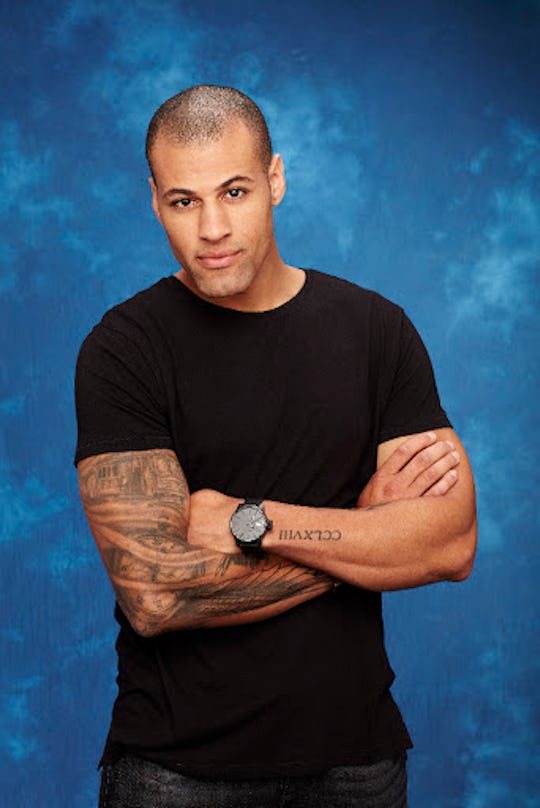 ABC/Craig Sjodin
What Are Grant's Tattoos On 'The Bachelorette'? We'll Likely See A Lot Of Them This Season
ABC has finally announced the contestants for the 12th season of The Bachelorette, which means it's time to forget about the plot twist and betrayal that left fan favorite JoJo Fletcher heartbroken in Jamaica during the finale of The Bachelor and move on. Ben had already told her that he loved her, but he told Lauren B. the same thing, and she ended up with the rose. But JoJo got something arguably much better: her own season as the Bachelorette, and a pool of real lookers to get to know once the season premieres May 23. Host of The Bachelor, Chris Harrison, has already identified a certain tatted up stud as one of the five men to watch. Grant Kemp is a model and — wait for it — a firefighter with an Instagram page full of shirtless pics showing off mad abs and no shortage of ink. It's got JoJo fans wondering: What are Grant's tattoos? And will he be adding one with JoJo's name on it?
There's a lot to know about Grant, starting with the fact that he's a "buff and good-looking guy" who just ended a long-term relationship, Harrison told Yahoo! News. "That relationship went down in flames and so the question with him now is 'Is he ready to get back out there? Is it too soon?'"
If Grant's ready to get back out there, if it's really not too soon, then I'm ready to dive into that body art.
It looks like the San Francisco native has quite the diverse array of tattoos, many of which are undoubtedly personal, but this one of the Golden Gate Bridge isn't hard to figure out. He's also got some wings on his arm.
According to his ABC bio, the worst time he ever had going out with someone happened over lunch, when he listened to his date talk about Harry Potter for 20 minutes. So I'm guessing this owl tat is not a shoutout to Hedwig. #Wiseoldowl.
Grant is also sporting what looks like a mandala design and a stop watch. Maybe he'll explain that over dinner with JoJo?
Finally, Grant has the epithet "Stop At Nothing" displayed prominently on this chest. Perhaps this is a bit of foreshadowing about how far he may be willing to go to win that final rose?
Aside from being covered in tattoos, Grant considers himself a thoughtful guy who's good at making people smile and feel appreciated, and he also once used an ATV to evade police in Mexico.
If "Stop At Nothing" is any indication, fans of The Bachelorette will get to know Grant pretty well over the course of this season, and definitely get to learn about what went down during the Mexican police debacle — and, if they're lucky, why the number 13 adorns Grant's hip.