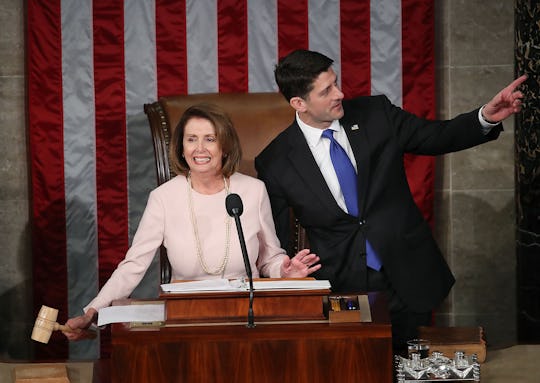 Mark Wilson/Getty Images News/Getty Images
Here's What Happens To House Rule-breakers
Tuesday marked the swearing-in of the 115th House of Congress. There was a celebratory spirit in the air, as lawmakers brought along family members and friends to ring in a new administration. The celebrations were short-lived, though, as members of Congress got down to business. One of the first votes passed was a new set of House decorum rules brought forth by Senate Republicans... but what happens if those rules are broken?
The new rules introduced by House Republicans were focused on how lawmakers should potentially conduct themselves during debates in Congress. Republicans added provisions to impose fines on House members who refuse to observe the set rules of decorum. These provisions include filming and broadcasting from the House floor, which would carry a fine of up to $2,500, depending on how many times the offense was carried out.
This was added as a way to prevent a repeat of the sit-in performed by Democrats on the House floor in June, in an attempt to force gun control measures in June. The sit-in, which tied up the House floor for 24 hours, was streamed live from the chamber. While Republicans reportedly consider this provision a simple step to ensure the laws are being followed (taking photos or video has always been prohibited in the House, but that rule has been mostly ignored), some Democrats see the levy of fines as a way to effectively stifle free speech.
Georgia Democratic Rep. John Lewis spoke out against the new rules proposed by Republican Speaker of the House Paul Ryan, telling CNN:
No Congress, nobody, no committee has the power to tell us that we cannot stand up, speak up and speak truth to power. We have a right to dissent, we cannot and will not be silent.
Senate Republicans also included clarifications about the decorum with which House members should comport themselves on the floor, like blocking other members access to microphones or commandeering the front of the chamber known as "the well," as Lewis (a noted civil rights activist) has done in the past. Members who break these rules could be referred to the Committee on Ethics and have sanctions levied against them.
AshLee Strong, a spokeswoman for Ryan, released a statement defending these new rules of decorum, according to The Washington Post:
These changes will help ensure that order and decorum are preserved in the House of Representatives so lawmakers can do the people's work.
The rule package was passed with a vote of 234-193, after Republicans were forced to remove language that would have effectively inhibited the autonomous power of the Office of Congressional Ethics.