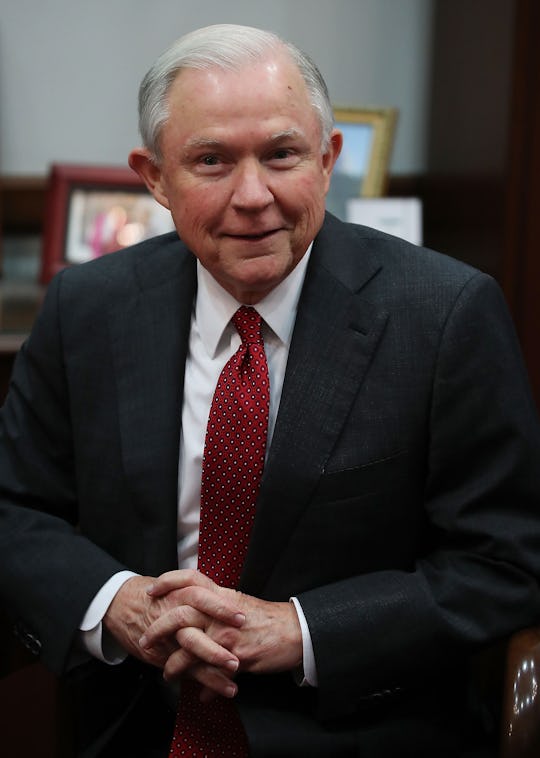 Mark Wilson/Getty Images News/Getty Images
What Are Jeff Sessions Views On Climate Change? He Believes It's A Conspiracy Theory
There's a lot you need to know about Alabama Sen. Jeff Sessions. First of all, let's talk about his full name — Jeffrey Beauregard Sessions III. Amazing because Beauregard. But his impressive moniker isn't the most important piece of information the American people need to know about Trump's pick for attorney general (I guess). No, what people really need to know about are Jeff Sessions views on climate change.
In a podcast taped in November 2015, Sessions said that climate change was a hoax perpetrated to keep poor people from accessing affordable energy. The audio tape (which has been removed from the Family Research Council's website but was recently obtained by The Huffington Post), found Sessions telling Family Research Council's President Tony Perkins:
Just think of a person out in a village. Somebody once said a lifespan of a person in a society where electricity is readily available is twice that where it's not. We don't need to be driving up the cost and making it harder for poor people to have the sort of things we take for granted here.
Sessions was speaking to Perkins as President Obama was at the Paris Climate Change conference. Before the conference, Obama pledged three billion dollars to help developing countries develop strategies to combat climate change like developing renewable energy systems. And Sessions appears to be disagreeing with this concept.
According to Sessions, the initiative that encourages developing countries to stop using heavily polluting fossil fuels in favor of energy efficient energy systems like wind and solar power is unfair and unnecessary, as he told Perkins:
A huge part of this is that the United States is expected to send billions of dollars around the globe to fund energy projects in poorer countries. We are a generous nation. We do a lot to help the poor. We have missionaries and we have government programs that send out billions of dollars.
Sessions did not immediately respond to Romper's request for comment.
The senator from Alabama has a history of climate change skepticism; In a 2015 hearing where he was questioning Gina McCarthy of the Environmental Protection Agency, he maintained:
Carbon pollution is CO2, and that's really not a pollutant; That's a plant food, and it doesn't harm anybody except that it might include temperature increases.
Of course, it would have been too much to expect President-elect Donald Trump to appoint a climate change advocate to his new administration. After all, Trump's Chief of Staff Reince Priebus recently announced that the official position of the Trump administration would be climate change denial.
So that's not scary at all.