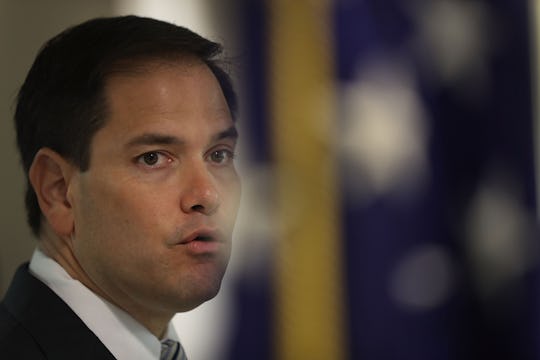 Joe Raedle/Getty Images News/Getty Images
What Are Marco Rubio's Views On Black Lives Matter? He Says The Movement Is 'Legitimate'
In the wake of the recent police shootings of two black men — Alton Sterling and Philando Castile — protestors from the Black Lives Matter movement have taken to the streets across the nation. In the past few days, public figures too have taken the time to weigh in on the movement; While some haven't chimed in (or worse, may have had disapproving things to say), Republican Florida Sen. Marco Rubio is speaking out in a surprising way. So, what are Marco Rubio's views on Black Lives Matter?
The former Republican presidential candidate has previously said the racial injustices within law enforcement, which the movement aims to change for African Americans, are "legitimate issues." During an interview in 2015 with Fox News, Rubio acknowledged the movement and said its members' voiced issues need to be addressed.
"There is a legitimate issue here," Rubio said during the 2015 sit-down with Fox News' The Kelly File. "It is a fact that within the African American community around this country, and there has been for a number of years now, a growing resentment towards the way law enforcement and the criminal justice system interact with with the community. It is particularly endemic among young African American males that in some communities in this country you have a much higher chance of interacting with criminal justice than higher education."
"We do need to face this. It's a serious problem in this country," Rubio continued in the same Fox News interview. "There are a lot of different reasons for it, not all of them have governmental answers, but it is something we need to confront."
Rubio pointed out that the grievances brought forth by the Black Lives Matter movement need to be confronted, but said he believes not all of the racial disparities have a governmental solution.
"There are a lot of different reasons for it, not all of them have governmental answers, but it is something we need to confront," Rubio said. "Because you have a significant percentage of our population that feels that they are locked out of the promise of this country and the result is the anxiety and the frustration you're now seeing in the press."
However, as Christina Coleman from Newsone pointed out, many of the issues are directly related to governmental issues. She highlighted criminal justice reform, poverty, and equality in education — all of which can be helped by support from lawmakers.
"I don't think they have a detailed policy plan they want us to carry out," Rubio said, conversely. "And I said, some of it doesn't have governmental solutions."
The movement has come a long way since its foundation and activists have since outlined their demands, such as asking for the swift and transparent legal investigation of all police shootings of black people and official governmental tracking of the number of citizens killed by police.
While Rubio has acknowledged the issues the movement wants change for, he has yet to offer any solid solutions. If the senator truly wants to confront the issues, he might also need to present a plan of his own.
Still, Rubio's latest statements, following the tragic shooting deaths of five police officers in Dallas, Texas, may give some reason to hope that he's turning the corner. In a statement on July 8, Rubio noted,
Those of us who are not African American will never fully understand the experience of being black in America. But we should all understand why our fellow Americans in the black community are angry at the images of an African American man, with no criminal record, who was pulled over for a busted tail light, slumped in his car seat and dying while his four year old daughter watches from the back seat.
All of us should be troubled by these images. And all of us need to acknowledge that this is about more than just one or two recent incidents. The fact is that there are communities in America where black families tell us that they are fearful of interacting with their local law enforcement. How they feel is a reality that we cannot and should not ignore. And as we work through this it will require us to ask and to answer some very difficult and uncomfortable questions.
If nothing else, one might easily say the tide is beginning to turn — however slowly.