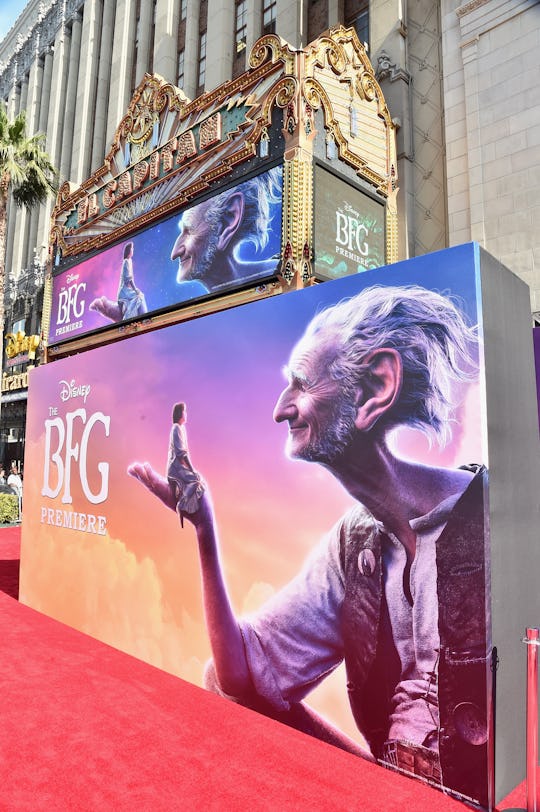 Alberto E. Rodriguez/Getty Images Entertainment/Getty Images
What Are The Fruits The Giant Eats In 'The BFG'? He Eats Fun and Whimsical Foods
The 2016 fantasy adventure film The BFG tells the story of an orphan girl named Sophie who befriends a big and benevolent giant who is about 25 feet tall. They live in a world filled with man-eating giants, but the pair set off on an adventure to end this evil activity. Sophie's gentle and giant companion doesn't eat people, in fact he's a vegetarian. He eats plenty of whimsical vegetables in the movie, but what are the fruits the giant eats in The BFG? The giant has a simple diet of fantasy foods that are featured prominently in the movie.
A variety of fictional foods pop up throughout The BFG, including a fruit that resembles a cucumber. The Snozzcumber is much, much larger than your average cucumber — it varies in size from nine to 12 feet long. Snozzcumbers have black and white lengthwise stripes and wart-like bumps or growths all over its skin and tastes like frogskin, rotten fish, and cockroaches and sounds like crushing ice when eaten.
In the original 1982 book, according to Sophie a snozzcumber, "was about half as long again as an ordinary man but was much thicker. It was as thick around its girth as a perambulator. It was black with white stripes along its length. And it was covered all over with coarse knobbles."
That's a pretty intimidating salad accessory if you ask me.
A dish of Snozzcumbers is washed down with a glass of Frobscottle — a green-colored fizzy drink where the bubbles fizzle down instead of up, causing plenty of whizzpops, or farts. The Snozzcumbers don't taste good, but Sophie, the BFG, and all the other giants think Frobscottle tastes delicious.
Since the popularity of the book and the movie, many food bloggers have adapted kid-friendly recipes for Snozzcumber dishes and batches of Frobscottle to pair with it. Planning a day in the kitchen with the kids after seeing The BFG could be fun way to incorporate a few extra veggies into their diets with excitement, rather than a hassle.
The BFG — an adaptation of the beloved 1982 children's book written by Roald Dahl and illustrated by Quentin Blake — hit theaters on Friday, July 1. This film takes place in England in the 1980s and the creatures, locations, and objections are full of imagination. The BFG doesn't only take you on a trip to a world of fantasy temporarily, but you'll leave the theater with an anti-bullying message for kids and lessons about humanity, acceptance, and living peacefully with others.