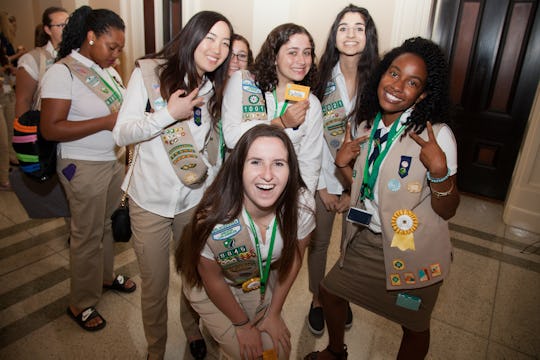 Kelly Sullivan/Getty Images Entertainment/Getty Images
The Girl Scouts Are Headed To The Inauguration
Most people may have heard about the Rockettes' involvement in President-elect Donald Trump's inauguration, and they've likely read that Toby Keith will be headlining the event — but the fact that the country's favorite thin mint cookie suppliers will also be in attendance might be surprising to some. More precisely, they might find themselves wondering: what are the Girl Scouts doing at the inauguration, exactly? It's not a typically political organization, nor does it usually sign up for entertainment gigs, does it?
Actually, the Girl Scouts of the USA has been part of several inaugural parades in the past, and that's exactly what they'll be doing come Friday. Many have criticized the Girl Scouts' involvement in light of several sexual assault allegations against Trump (which he has repeatedly denied) and his many controversial comments about women. But on Wednesday, Girl Scout officials defended the group's involvement in the parade, telling NBC:
At Girl Scouts, our movement is made up of individuals who hold political beliefs and convictions as varied as our nation itself. And because every girl has a home at Girl Scouts, every girl in our movement is allowed her own ideas, opinions, beliefs and political ideology. ... Our fundamental value is empowering girls to be leaders in their own lives. By helping them build the courage, confidence, and character to lift their voices, champion their views, and be advocates for the issues and ideas important to them, Girl Scouts supports girls as they become catalysts for change who strengthen their communities.
"Of course, we are a nonpartisan nonprofit organization that by law cannot take positions on political candidates or parties — and we take this very seriously," the Girl Scouts told NBC. "Advocating for change on issues one cares about isn't at odds with participating in a century-long tradition that represents the peaceful exchange of power."
Regardless of the Girl Scouts' explanation, however, many women involved with the organization — either currently or in the past — have expressed anger at its decision to take part in the inauguration. "Trump has sexualized young girls again & again," author Jessica Valenti wrote on Twitter, tagging the Girl Scouts' account. "How can you defend sending children to the inauguration?"
One mother, writer Sarah Kendzior, added: "I'm the mother of a Girl Scout and I hope you reconsider your participation. Trump does *not* honor your values."
Regardless of the public backlash, however, it seems Girl Scouts will be remaining in the Inauguration Day parade. According to a tweet by the organization's account, however, they'll also be present at the Women's March on Washington — so it seems like it's up to individual scouts to choose which causes they'd like to support.