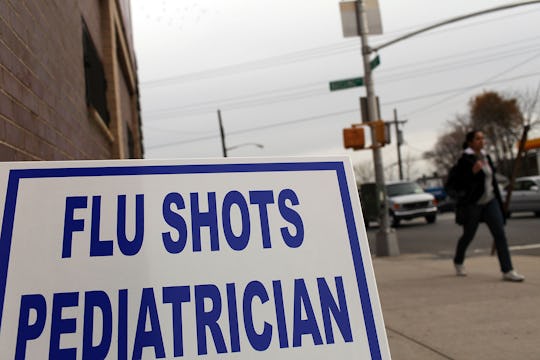 Spencer Platt/Getty Images News/Getty Images
Here Are They Symptoms Of H3N2 & What To Look For, According To Doctors
Flu season. Sometimes it seems no matter how hard you try to avoid it, one moment you are going through the day and the next you are bent over a toilet. But according to the Centers for Disease Control and Prevention (CDC), a recent flu outbreak in 46 states is potentially deadly. The culprit? A particularly dangerous strain known as H3N2 which makes up about 80 percent of the cases. But what are the symptoms of H3N2 and how does it differ from just feeling lousy?
"The flu can be deadly — it's not just the congestion or sore throat or fever that is concerning," Dr. Nicole Edwards, CEO and medical director of Abundant Life Concierge Medicine in Columbia, South Carolina, tells Romper in an email interview. "It's when the flu affects someone whose immune system is not as strong (e.g. infants and small children, elderly people, people with chronic disease, and/or immunocompromised individuals) that it can become deadly. The flu can lead to other complications like pneumonia, sinus infection, and even respiratory failure, which can require intubation or lead to death."
Edwards, who is also the medical director of True Counsel Behavioral Health, says symptoms of the flu you should never ignore include: cough, cold, sore throat, fever, headache, and body ache. "Don't wait to see a doctor," she says. "The antivirals need to be started within 48 to 72 hours to be effective."
The outbreak has already caused hospitalizations and deaths in Australia, where winter occurs in July and August. In the United States, 13 children have died from the flu, reported CBS Chicago.
"We're not sure if the numbers are higher than typical for this time of year because the season is just peaking early, or if it will continue to worsen," Dr. Darria Long Gillespie tells Romper in an email interview. "But we do know that the number of sickened and killed by the flu is higher now than it typically is at thing time of year."
Gillespie also noted that very rare complications of the flu can occur in children, including myocarditis (symptoms would include shortness of breath, fever, chest pain, racing heart rate, or fatigue) or encephalitis (symptoms include mental status changes, confusion, and seizures). "I've been treating three to 10 kids a day for the flu and haven't seen an outbreak like this in eight years," Dr. Gary Kramer tells Romper in an email interview. "This has probably been one of the busier years with the flu since the H1N1 swine flu epidemic."
The CDC recommends adults and children alike take special precautions to guard against the flu, including everyday measures like washing hands, and avoiding close contact with sick people. Antiviral drugs — if your doctor prescribes them — and a yearly flu vaccine are also recommended. The CDC also noted everyone 6 months of age and older "should get a flu vaccine every year before flu activity begins in their community," typically by the end of October.
"Because there is no guarantee that merely taking the vaccine will guard you from the flu, many parents are hesitant," Kramer says, pointing to preliminary data in Australia that suggests less than 10 percent efficacy of the vaccine. "Unfortunately there is no reliable way to anticipate this. One school of thought is that most 'healthy' children can combat the flu without incident and hence the vaccine is not of great value given the uncertainty of its efficacy."
But Kramer explains that while the decision to vaccinate or not is certainly a personal choice, "we must all think about the public health impact of flu prevention that the vaccine has in reducing the spread to others."
Moral of the story? Be on the lookout for flu symptoms and don't be a hero by trying to avoid the doctor. This flu is no joke.
Check out Romper's new video series, Romper's Doula Diaries:
Watch full episodes of Romper's Doula Diaries on Facebook Watch.