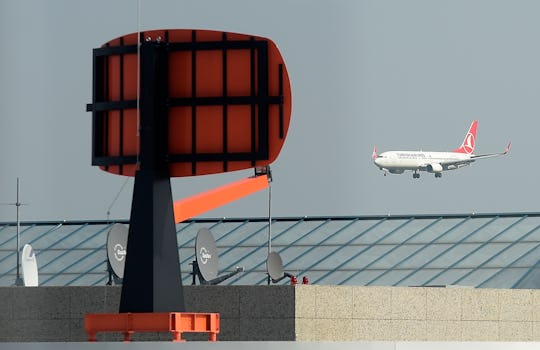 TOBIAS SCHWARZ/AFP/Getty Images
What Are Turkey's Gun Laws? The Istanbul Airport Attack Has Prompted Questions
The Istanbul Ataturk International airport was rocked with multiple explosions on Tuesday, which killed at least 10 people and injured multiple others, according to Turkish officials. The explosions, which witnesses have said were accompanied by the sound of gunfire, appear to have been another terrorist attack in Turkey's capital city. With this latest attack, concerned travelers are now likely wondering about Turkey's gun laws.
Update, 7:17 p.m. ET: Istanbul's governor says at least 31 people were killed in the Istanbul Ataturk airport attack, and at least 60 were wounded, according to the Associated Press. Authorities believe there were three suicide bombers.
Turkey has struggled with reckless gun use for many years as a result of a recent spike in personal armament. According to Turkish media outlet The Daily Sabah, approximately 3,000 people per year are involved in gunfights in Turkey, while 10,000 people are wounded as the result of stray gunfire. And while anti-gun lobbyists in the country blame the rise in personal armament (50 per cent more homes now carry weapons than they did in 2008 in Turkey) on lax gun laws, the problem might be further reaching than that. According to a report by the Turkish Parliament Interior Commission in 2012, 85 per cent of guns in Turkey remain unregistered. Turkey does have some gun laws in place, like age restrictions and required medical documentation. The Turkish government requires that any person buying a gun must be 21 years of age and provide a report of physical and mental stability issued by a doctor. If the purchaser meets these requirements, they have to pay 1,600 dollars for two permits: one for owning a gun, and the other for carrying it on their person. A provincial governor has to sign their application and the two licenses can be held for five years.
Unfortunately, if the majority of the guns are unregistered, this might not solve the real issue at hand, which psychologist Ayhan Akcan told The Daily Sabah comes down to cultural belief systems. In Turkey, owning a gun is an important ritual for a man to prove his virility, according to Akcan.
As reports of the most recent attacks on the Ataturk International Airport, one of the world's busiest airports, continue to come in, a grim picture begins to unfold. Minister of Justice Bekir Bozdag confirmed that there are at least 28 people dead and 60 others injured from multiple explosions on Tuesday. A Turkish official reported that three assailants opened fire with machine guns before detonating suicide vests just before passing through the first security checkpoint in the International Departures area.
The attacks happened around 10 in the evening, a busy time of day for the bustling airport. Flights from the United States to and from Turkey have been suspended temporarily. The United States issued a travel advisory on Monday to Turkey, just one day before the attacks.
Foreign and U.S. tourists have been explicitly targeted by international and indigenous terrorist organizations. As stated in the Worldwide Caution dated March 3, 2016, throughout Europe extremists have targeted large sporting events, theatres, open markets, aviation services, transportation systems, and public venues where people congregate as well as religious sites and high-profile events. U.S. citizens are reminded to review personal security plans and remain vigilant at all times. U.S. Government personnel in Turkey remain subject to travel restrictions in the southeastern provinces of Hatay, Kilis, Gaziantep, Sanliurfa, Sirnak, Diyarbakir, Van, Siirt, Mus, Mardin, Batman, Bingol, Tunceli, Hakkari, Bitlis, and Elazig. U.S. citizens should avoid areas in close proximity to the Syrian border.
While no terrorist group has claimed responsibility for the attacks at this time, the number of people injured in the airport attack continues to climb.
.