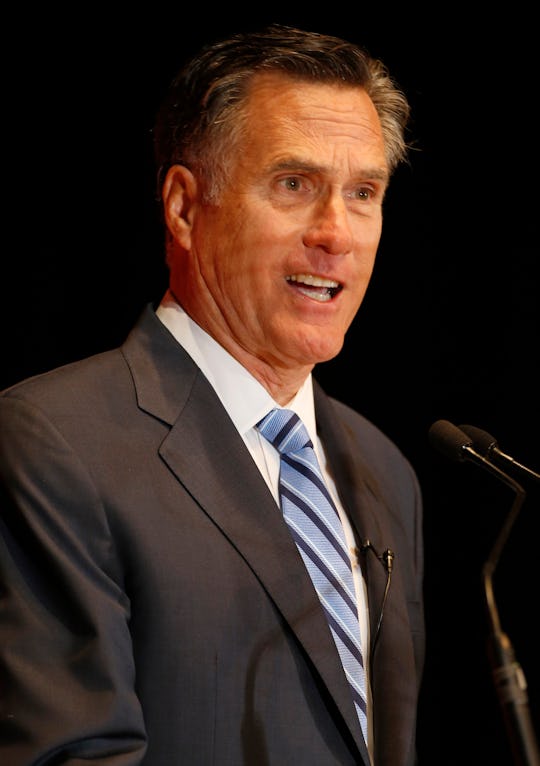 George Frey/Getty Images News/Getty Images
What Cabinet Position Would Mitt Romney Take, If He Accepts Donald Trump's Rumored Offer?
President-elect Donald Trump has been a busy bee since he was elected as the 45th president of the United States last Tuesday. The generally outspoken New York businessman has been doing a lot of work behind the scenes, announcing interesting (read: controversial) appointments for key White House staff members when he takes over in 2017. But what of his most recent rumored possible appointment? Trump is set to meet former Massachusetts Gov. Mitt Romney over the weekend, and this meeting has political pundits scratching their heads over what Cabinet position Romney might take if he accepts Trump's rumored offer. After all, the two powerhouse Republicans haven't exactly seen eye-to-eye throughout the 2016 presidential election.
According to a source close to the president-elect who spoke to NBC News, Trump is considering naming Romney, himself a former Republican presidential nominee (Romney ran an unsuccessful campaign against President Obama in 2012), as the new secretary of state. Romney has been especially vocal in his criticism of Trump throughout Trump's inflammatory campaign, referring to the president-elect on more than one occasion as a "phony," a "fraud," and a "con man," while Trump spoke derisively about Romney's own election loss, saying the former governor "choked like a dog" against Barack Obama despite the fact that Trump endorsed Romney as a candidate in 2012.
A meeting between the two Republicans could go a long way to helping mend fences in the severely fractured Republican party. The 2016 presidential election was historically divisive not only between Democrats (who were undeniably shocked to see their own candidate, former Secretary of State Hillary Clinton, lose against anti-establishment candidate Trump) and Republicans, but markedly divisive within the GOP itself. Romney refused to endorse Trump, denouncing him as the Republican candidate in a speech in March and saying, "dishonesty is Donald Trump's hallmark." Romney sought out various third-party options through Trump's campaign like allowing Libertarian candidate Gary Johnson to join the debate, even casting about for a possible third-party candidate for the GOP. Once Trump won the election in a surprising upset, however, Romney was quick to get on side.
Romney could prove incredibly useful to Trump's cabinet as a well-seasoned politician, particularly considering the choices Trump has already made for his White House staff. Former Republican National Committee Chair Reince Priebus has been tapped as White House Chief of Staff despite a shocking lack of experience in government operations.
Then there's Steve Bannon, former CEO of Breitbart News, who Trump has named his chief strategist. Bannon has never worked in government before, and reportedly has a history of alleged misogyny, anti-semitism, and white nationalism.
If Trump offers Romney the position of Secretary of State when the two meet on Sunday, that appointment would make a lot more sense than some of Trump's other choices (Bannon, I'm looking at you).
But what would it say about Romney and his high ideals if he accepted?