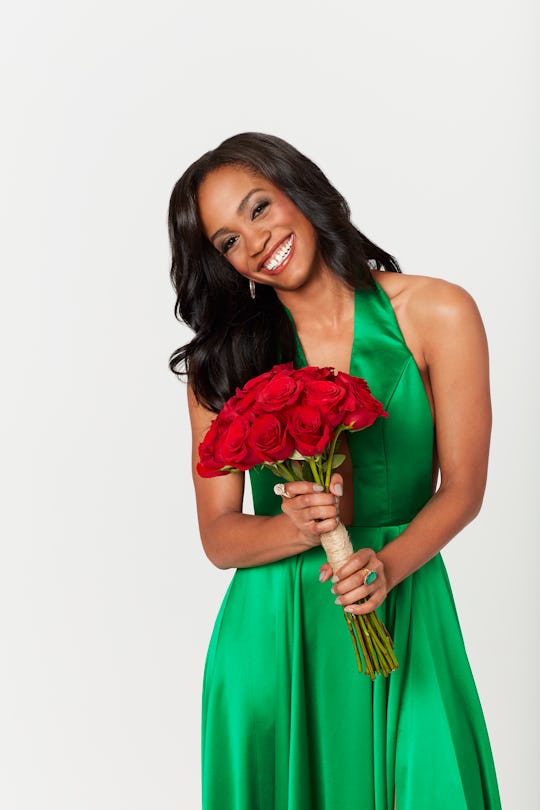 Craig Sjodin/ABC
Rachel's Childhood History Comes Out On 'The Bachelorette'
When Liz Sandoz showed up on Nick Viall's season of The Bachelor, it made waves. While the entire premise of The Bachelor/The Bachelorette is for one eligible man or woman to meet/date a group of 25+ strangers, Liz and Nick had already met before — and hooked up. Apparently, something vaguely similar happened with Rachel Lindsay, the new star of The Bachelorette, and one of her contestants. But their meet-cute was at a summer camp as kids, not a wedding as adults (and didn't involve a hook-up, obviously). So, what camp did Rachel work at? And is this the start of an epic Bachelor Nation love story or the beginning of Liz-esque awkwardness?
First, some background: Rachel's Bachelorette season has yet to premiere, but as with most seasons of any Bachelor Nation show, the producers have teased certain clips (so many promos!) and contestant stories that seem guaranteed to draw the biggest drama of the season. Viewers never go into a season premiere totally unprepared! One of those clips, this year, was Rachel meeting Fred Johnson, a 27-year-old executive assistant in the entertainment industry (and the owner of a pretty phenomenal personal website).
During a recent appearance on Good Morning America, Rachel debuted a brief portion of the premiere where Fred stepped out of the limo and she realized they'd once known one another. "I haven't seen you or talked to you in over 15 years, it's good seeing you again Rachel," Fred said in the clip.
As Chris Harrison explained in his Yahoo TV rundown of the five Bachelorette contestants to watch, Fred is from Rachel's hometown (Dallas, Texas) and they attended a summer camp together. "Rachel was his slightly older camp counselor. Fred had a crush on her and he has carried the torch for quite sometime," Harrison explained. There's no information available about where Rachel was a camp counselor (unsurprisingly, her extensive and impressive LinkedIn profile doesn't go back that far), but it was obviously somewhere in the Dallas area that operated in the '90s/early 2000s.
In the season premiere clip, Rachel said she knew "exactly" who Fred was as soon as she saw him, saying that he was "a very bad kid." In the GMA interview, Rachel clarified that she didn't mean he was a "bad boy" in a sexy way — seems like he'd been a thorn in her side when she was his counselor. In the first ever Facebook Live contestant announcement video, Harrison explained that the situation between the two could really go either way: "I think that's a great story. It could be a Disney story, or it could be a complete disaster."
While things didn't go so well for Liz on Nick's season, Fred's unexpected reunion with his longtime crush could go either way. Rachel didn't look impressed or happy when she saw Fred again and the fact that he was a "bad kid" doesn't exactly bode well for a romantic connection between the pair. On the flip side, Harrison told Yahoo TV that Fred "is a very sweet, good guy and there is nothing creepy about [his reappearance]."
I guess Bachelorette fans will just have to wait and see if Fred can make a new (and hopefully better) first impression with his childhood crush.