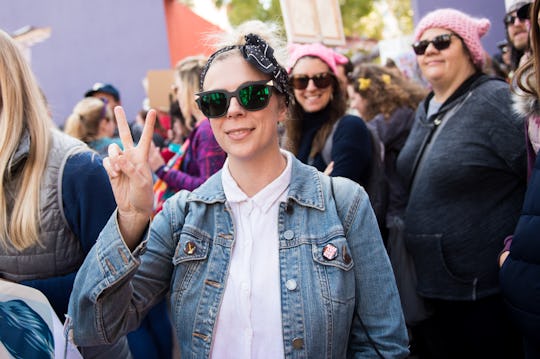 Emma McIntyre/Getty Images Entertainment/Getty Images
Everything You Should Bring With You To The 2018 Women's March
This year's Women's March promises to be a bird of a different feather. The same spirit of resistance felt at last year's historic Women's March will certainly be present. The power of millions of women and the people who support them standing together to protest the presidency of Donald Trump will hopefully continue to resonate. But this year, women aren't just marching; they're hoping to affect change across the country and beyond. With that in mind, you're going to want to be prepared. Here's a checklist of what you can bring to the 2018 Women's March so you don't find yourself in a bind on what should be a memorable and historic day.
As women prepare to get organized for this weekend's Women's March, which falls almost exactly on the anniversary of the Women's March on Washington (and dozens of other cities across the country) last year, it's important to note the shift in perspective. After all, so much has happened in the past year on the political front. Which is why the Women's March in Las Vegas on Jan. 21 has a powerful, important agenda... Power To The Polls:
On January 21, 2018, Women's March will gather in Las Vegas, Nevada for Women's March: Power to the Polls, an event that will launch a national voter registration tour one year after the historic Women's March on Washington. This next stage of the movement will channel the energy and activism of the Women's March into tangible strategies and concrete wins in 2018.
Now that you set and ready to go, here's what you and should bring with you:
Outerwear
While your choice of outerwear depends largely on where you'll be marching, if you're going to be anywhere cold you'll want to wear a winter coat. Yes, they can be a pain to lug around, but you definitely don't want to get caught outside for a long stretch without the proper gear for the weather. Especially since the crowds are expected to be big, and getting out quickly could prove to be an issue. A light scarf, gloves, and a hat are also recommended.
Backpack
Much like last year's march a clear backpack that can be easily checked by security would be a great idea. Something under 17x12x6 inches is ideal, as Vogue recommended. Still big enough to carry a dog clearly dedicated to activism.
Comfortable Shoes
Find yourself shoes that are water and mud resistant, with good arch support and super comfortable. A long day of activism is probably not the best time to road test a new pair of shoes... you want to be as comfortable as possible when you're trying to make the world a better place.
And do you know what else makes the world a better place? Good socks. A pair of dry, warm socks can make all the difference in the world.
Water Bottle
Stay hydrated, everyone.
Snacks
Carrying a few light snacks with you is a great idea, as The Cut explained, because you don't want to run into the issue of having to line up to get food. That being said, don't feel that you have to pack the entire fridge or lay out a nice little picnic for yourself or anything. Just some light snacks — granola bars, an apple, or a bag of nuts, for example — to keep up your energy.
Money
It's always a good idea to carry a little cash, even if it's just to pay for a nice hot latte to warm up in the afternoon. And it's not always guaranteed that all vendors can or will accept debit or credit cards.
Portable Phone Charger
Because you're going to want to share pictures of all the amazing signs people have made, and you don't want to run out of battery. And speaking of signs...
A Sign
This photo was perhaps one of the most iconic photos from the Women's March last January, in my opinion. This sort of artistic impression carries weight far beyond the first few days after a march.
Of course, there are always a few things you really shouldn't be bringing, especially since most of the marches are expected to have strong security measures. The Daily Record in Morriston, New Jersey shared this list with marchers about what not to bring, which includes obvious things like weapons, lighters, and masks as well as less obvious objects like coolers and pets.
Essentially, it's a good idea to pack light and pack smart. Because you want to be as comfortable as possible, to be as effective as possible.
Check out Romper's new video series, Romper's Doula Diaries:
Watch full episodes of Romper's Doula Diaries on Facebook Watch.