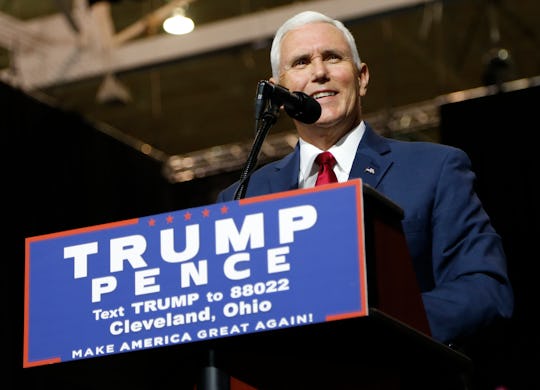 JAY LAPRETE/AFP/Getty Images
What Caused Mike Pence's Plane To Slide Off The Runway At LaGuardia?
Well this could have turned out much worse. Republican vice presidential candidate Mike Pence's campaign plane slid off the runway at LaGuardia Airport on Thursday. While, thankfully, no one was injured, Pence and his campaign staffers, as well as members of the press, were asked to disembark from the plane as emergency crews arrived. So what could have caused Pence's plane to slide off the runway? Because it's not like that happens every day.
Pence was reportedly arriving with around 30 people from Fort Dodge, Iowa, including his wife and daughter, where he had been campaigning. Pence was seen greeting emergency workers in the rain after disembarking, shaking hands and ok, I will admit it, looking sort of badass. After Pence was out of the plane, he even went back to check on other passengers, according to members of the media who were present. Republican presidential nominee Donald Trump reportedly called Pence after the incident to make sure he was safe, according to Trump spokesperson Stehanie Graham. She released a statement via email:
Mr. Trump did reach out to Gov. Pence. He's glad that everyone on board is safe.
I don't know about you guys, but that eloquent statement of stark concern and affection sort of made me choke up. I'll need a moment here.
While investigators have yet to release the official reason why the plane went sliding off the runway, passengers on the plane have reported that something didn't feel quite right as the aircraft came in for a landing at LaGuardia on Thursday night. According to CNN's Elizabeth Landers, who was in the press pool on Pence's plane, the plane felt as though it was fishtailing and sliding off the runway before coming to a sharp stop in the grass. "We could feel the plane moving, and it was just not a natural landing that you experience," she said.
Landers also noted that Pence's flight had initially been held up due to bad weather; Mary Schiavo, a former inspector general for the Ministry of Transportation, discussed the incident with CNN's Anderson Cooper and felt that bad weather could well have been the cause. It could have hindered the plane from getting "good traction" on the landing, Schiavo hypothesized.
"When there's a layer of water on it, it is very much like hydroplaning in your car," she said. "LaGuardia has had this very thing happen before."
As federal aviation investigators look into the incident, Gov. Pence cancelled a fundraising event for the evening to recover from what must have been a harrowing ordeal.
And now that we know everyone is safe and sound... let the jokes commence.