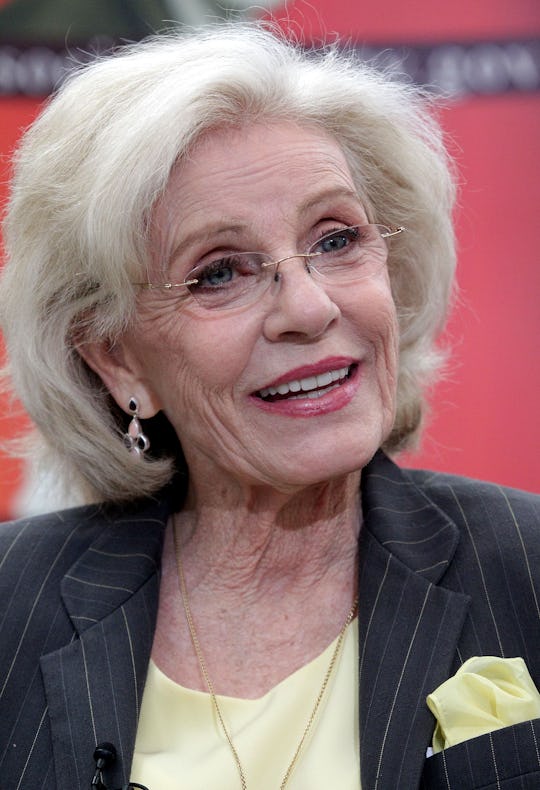 Frederick M. Brown/Getty Images Entertainment/Getty Images
What Caused Patty Duke's Ruptured Intestine? She Was An Accomplished Actress
Patty Duke was an Oscar-winning actress, a ferocious mental health advocate, a mother, a stepmother, a grandmother, and a loving wife. She died on Tuesday of sepsis from a ruptured intestine at the age of 69. While her family, friends, and fans mourn the loss of the great lady, some are wondering what caused Patty Duke's ruptured intestine?
According to the Centers for Disease Control and Prevention: "sepsis is the body's overwhelming and life-threatening response to an infection which can lead to tissue damage, organ failure, and death." The CDC reports that sepsis can be hard to pinpoint as the symptoms are quite varied, depending on the type of infection the body is trying to fight. Elderly people, patients suffering from chronic illnesses, people with weakened immune systems, and very young children are the most susceptible to sepsis. Approximately 258,000 Americans die each year from sepsis.
In Patty Duke's case, a ruptured intestine was the source of her sepsis. But what could have caused her intestine to rupture? A ruptured intestine (also known as a gastrointestinal perforation) can be caused by a variety of other health issues, according to The National Institute of Health Medline Plus.
Some common causes of gastrointestinal perforations are cancer, diverticulitis, appendicitis and Crohn's disease. While it is unknown which complication specifically caused Duke's intestine to rupture, she died surrounded by her family in a hospital in Coeur D'Alene, Idaho, where she has lived happily with her husband for the past 25 years.
Duke, who was born Anna Pearce, had an exceptionally long career in the public eye. She found fame at a young age, playing the role of Helen Keller alongside Anne Bancroft in the movie Miracle Worker.
The critically-acclaimed movie, based on the story of Annie Sullivan, the teacher who struggled to teach Helen Keller how to communicate and the relationship that eventually formed between the two, earned Duke an Oscar at the tender age of 16 years old. Duke went on to have her own TV sitcom on ABC, The Patty Duke Show, where she starred as identical cousins with very different personalities for three seasons (1963-1966).
Duke eventually wrote an explosive autobiography, Call Me Anna, where she admitted that she had struggled for years with bipolar disease... and paved the way for mental health advocacy. The book, which she co-wrote with L.A. Times film critic Kenneth Turan, Duke was brutally honest about her bouts of drug abuse, her turbulent childhood, her first three marriages, and the struggle to emancipate herself from her abusive stage managers.
Yet it was her lifelong battle with mental illness that truly seemed to be her calling. Duke lobbied Congress for more funding for treatment of mental illness and in 1997 she co-authored a second book about her experiences with medication and becoming stable, A Brilliant Madness: Living With Manic Depressive Illness.
Duke's oldest son, actor Sean Astin, recently took to Facebook to pay tribute not only to the mother he loved, but to the endurance of her legacy as a mental health advocate.