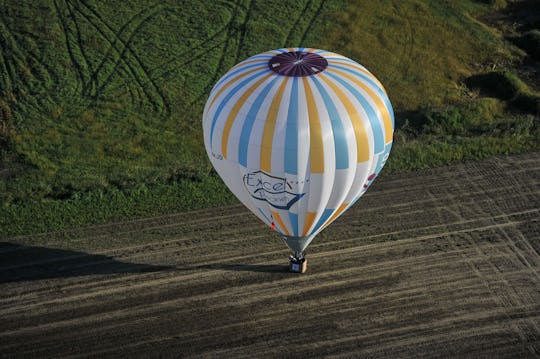 GUILLAUME SOUVANT/AFP/Getty Images
What Caused The Hot Air Balloon Crash In Texas? There Don't Appear To Be Survivors
Caldwell County Sheriff's Office reported that a hot air balloon carrying 16 passengers crashed on Saturday in Central Texas early on Saturday morning. The Federal Aviation Administration reported in a statement that the hot air balloon crashed into a pasture around 7:40 in the morning. As investigators continue to examine what could have caused the hot air balloon crash, Caldwell County Sheriff Daniel Law released a statement;
The balloon was occupied and it does not appear at this time that there were any survivors of the crash. Investigators are determining the number and the identities of victims at this time.
According to Lynn Lunsford, a spokesperson for the Federal Aviation Administration, the hot air balloon caught fire and crashed into a pasture just outside Lockhart, a town about 30 miles away from Austin, Texas. Investigators have yet to determine the cause of the fire that caused the crash, and still don't know how high the hot air balloon was flying before it went plummeting into the pasture. There were reportedly 16 passengers on board. The names of the passengers and the pilot have not been released pending notification of relations. The FAA have notified the National Transportation Safety Board and they will be handling the full investigation.
In 2013, a hot air balloon crashed in Egypt during a sightseeing tour near Luxor. Out of the 21 passengers on board, 19 people died. The two survivors were the captain of the vessel Moman Mourad and Scottish tourist Michael Rennie. The hot air balloon caught on fire as it was attempting to land, in this case, and rocketed 1,000 feet back into the sky before exploding. The crash was investigated by the Egyptian Civil Aviation Authority and it was concluded that the fire was caused by a fuel leak caused by a gas hose connection fault.
While it will likely take some time for the cause of this hot air balloon crash in Texas to be determined, Texas Gov. Greg Abbott has already issued a statement offering his condolences to the families of the victims.
Cecilia and I extend our deepest condolences for all those who have been affected by today's heartbreaking tragedy. Our thoughts and prayers are with the victims and their families, as well as the Lockhart community. The investigation into the cause of this tragic accident will continue, and I ask all of Texas to join us in praying for those lost.