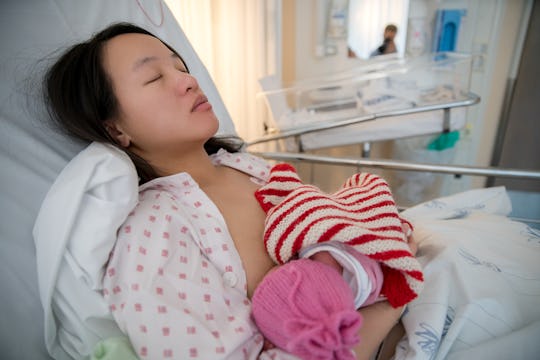 Morten Falch Sortland/Moment/Getty Images
5 Reasons Why Your Milk Production Might Be A Little Delayed, According To Experts
Lactogenesis isn't just a great spelling bee word — it's the scientific term for the process of a woman's body making milk for baby. And when lactogenesis is delayed and your milk supply comes in later than you might hope, it's a stressful situation for mom and baby. But what causes delayed milk production? There are a number of risk factors for moms to keep in mind.
"Many people are under the impression that it's normal for milk to come in three to five days after delivery," says Lynnette Hafken, MA, International Board Certified Lactation Consultant (IBCLC), in an interview with Romper. "While this may be common, milk coming in later than 72 hours is considered delayed."
The first few days after birth, women produce an early form of milk called colostrum. Colostrum comes in small amounts, and most babies drink about an ounce per day, which is sufficient for their tiny tummies. After those first 72 hours, the next stage of milk production (lactogenesis II) should transition colostrum into mature breast milk. When that stage is delayed, baby could be "at risk of insufficient feeding," says Hafken. And if baby isn't feeding early on, that can affect breastfeeding in the long-term. "The insufficient stimulation of the mother's breasts can also threaten her plan for continued breastfeeding by permanently reducing her supply," she says.
So, what can make your milk supply come in late? Here's what the experts say can contribute to delayed milk production.