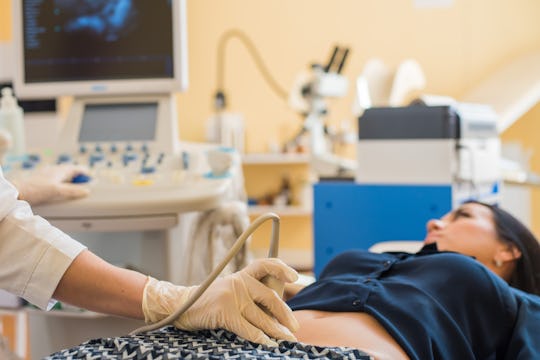 Shutterstock
7 Reasons Why You Might Bleed During The First Trimester, According To An OB-GYN
For adult women, it's not uncommon to find unexpected blood in your underwear from time to time. It could be your period showing up early or random spotting, but it's usually nothing to worry about. However, the sight can feel scarier when you're pregnant, especially if you're not yet familiar with the possible causes of bleeding during the first trimester. That doesn't mean you need to panic right away though, because there are several reasons why a woman might bleed during early pregnancy that are totally normal and harmless.
It makes sense that spotting when you're pregnant would alarm you a bit, as pregnancy halts normal menstruation. Your mind might jump to the worst, but in reality, it's actually not abnormal, particularly early on in gestation. "First trimester spotting is really common ... and occurs in 20-40% of pregnant women," reassures Dr. Chavi Eve Karkowsky, OB-GYN at Montefiore Health System and assistant professor at Albert Einstein College of Medicine via email. "But even though it's common, and often not a sign of anything worrisome, it can be really stressful and scary," she sympathizes.
Of course there are instances when bleeding when you're expecting can be a sign of something more serious. A healthcare professional is the best person to speak to for a proper diagnosis if you experience any spotting during your pregnancy, but hopefully knowing that the causes are more often than not innocuous will give you some peace of mind.
Here are seven reasons why one might bleed during their first trimester.