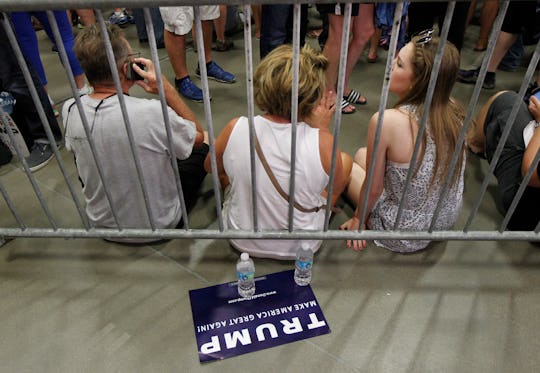 John Sommers II/Getty Images News/Getty Images
What Channel Are The Republican & Democratic Conventions On? You Won't Want To Miss Them
After what must feel like decades to some voters, it looks like the Democratic and Republican National Conventions are (finally!) around the corner. What can we expect from these conventions, you ask? Well, if we look at the 2016 Presidential Race so far, I think it's safe to say we can expect the unexpected. Which means they will both be worth watching, I think. So what channel will the Republican and Democratic conventions be on? Because we're all going to want to tune in to see how presumptive Democratic presidential nominee Hillary Clinton and presumptive GOP presidential nominee Donald Trump fare with ratifying the party's official platform — not to mention who they'll select as their respective vice presidential picks.
This year, both the Democratic and Republican National Conventions, which will be featured as joint broadcast productions on PBS and NPR for primetime coverage, will be held early, prior to the Summer Olympic Games in Rio De Janeiro, Brazil. In 2008 and 2012, the conventions were held after the games. This year, the Republican convention will be held from July 18-21, while the Democratic convention will be one week later, July 25-28. According to a press release, RNC Chairman Reince Priebus feels the earlier date for the convention spells good news for the Republican Party.
"I'm pleased to announce the 2016 Republican National Convention will kick off on July 18," he said in a statement. He continued,
A convention in July is a historic success for our party and future nominee. The convention will be held significantly earlier than previous election cycles, allowing access to crucial general election funds earlier than ever before to give our nominee a strong advantage heading into Election Day. We're excited to continue working with our partners in Cleveland and we look forward to showcasing everything the city has to offer to our delegates and the world in 2016.
Cleveland, Ohio will play host to the Republican National Convention, and will feature speakers like retired (and oft controversial) NCAA coach Bobby Knight, former candidate and current Wisconsin Gov. Scott Walker, and (perhaps most notably) Donald Trump's former rival for the presidential nomination, Texas Sen. Ted Cruz. Considering Trump's famously vicious verbal attacks against Cruz, especially near the end of their opposing campaigns (including particularly harsh insinuations about Cruz' wife), this might come as a surprise to some voters. But it turns out the GOP is stressing Party unity regardless. Cruz backing Trump could go a long way.
As for the Democratic National Convention and Hillary Clinton, the buzz word seems to be "unity" there as well. For one, everyone should know that Snoop Dogg is going to be hosting a "Unity Party" for donors after the convention, so there's that. But insiders also report that Vermont Sen. Bernie Sanders, who has yet to throw in the towel, is expected to throw his support behind Clinton prior to the convention as well.
Clinton could be under a tremendous amount of pressure during the convention, not only because she will be working hard towards party unity (and selecting her possible vice president), but also because a federal judge has set a hearing date for Clinton to testify regarding the home-based email server she used when acting as Secretary of State. And that date is July 18, the first day of the Republican National Convention, and one week before the Democratic National Convention (which will be held in Philadelphia).
All that pressure could be excellent practice for her days in the White House if she gets elected, I suppose.
Whether you're a Democrat, a Republican, a Libertarian, or an "Undecided," it should be worth tuning in to watch these conventions. Expect the unexpected.