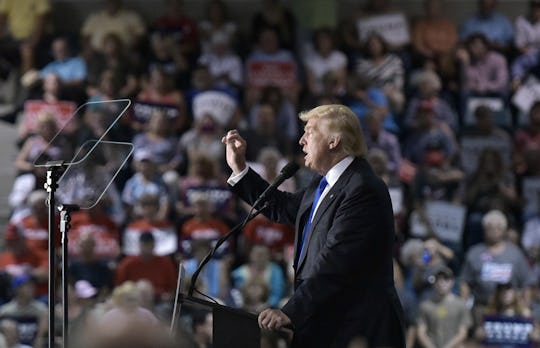 MANDEL NGAN/AFP/Getty Images
What Channel Is The First Presidential Debate On? Because You Can't Miss This
The time has come for the debates between Republican presidential nominee Donald Trump and Democratic nominee Hillary Clinton, and you probably aren't going to want to miss it. You're going to need to know all the details ahead of time to properly prepare as well, like what channel the first presidential debate is on so you can set a reminder, get in your comfiest clothes, pour a fat glass of wine (or whatever else will help you take in all the rhetoric for the night), and settle in for what is bound to be a wild ride. The first debate is in Long Island, at Hofstra University and will be moderated by NBC news anchor Lester Holt. But NBC doesn't get total dibs on this circus. The debate will be broadcast on C-SPAN, Fox, ABC, NBC, CBS, Fox News, CNN and MSNBC. All of those networks will allow you to stream the debate with an authentication or whatever your cable set up is.
If you find yourself without a regular TV, ABC News also has struck a deal to stream the debate live on Facebook. The network will reportedly be doing that for all of the presidential debates and the vice-presidential debates so it might be worth checking the festivities out on social media, because the comments on the Facebook Live video are bound to be, well, probably-absolutely insane.
This is good, though, because no one who plans on voting should miss a single word (although you're allowed to take breaks to bang your head against the wall when the candidates start slinging insults at each other). The Commission for Presidential debates has announced the whole schedule for debate season, so mark your calendars now.
Martha Raddatz, of ABC and Anderson Cooper of CNN will moderate the next presidential debate on Oct. 9 from Washington University in Missouri, and Chris Wallace from Fox will moderate the last debate on Oct. 19 from the University of Nevada in Las Vegas. Elaine Quijano, of CBS News will moderate the vice-presidential debate on Oct. 4 from Longwood University in Virginia.
The debates will all have certain topics that the moderators will have to stick to (likely so that Trump doesn't start reciting "The Snake" again) but as of now, only the first debate's topics have been released. According to Politico, the topics will be "America's Direction," "Achieve Prosperity," and "Securing America." They're subject to change if anything topical comes up in the news that the candidates should speak to.
See how much fun this is going to be?