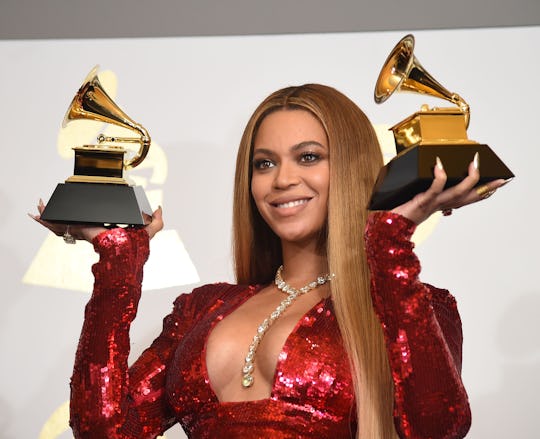 ROBYN BECK/AFP/Getty Images
The Hurricane Harvey Relief Telethon Is A Must-See Event
Last week, Hurricane Harvey devastated Houston, Texas, along with other parts of southeast Texas. Since then, various celebs have come together to raise money and other essentials to help those who were impacted by the storm. To continue hurricane relief efforts, celebs are now joining together for a Hurricane Harvey relief telethon on Sept. 12. So what channel is the Hurricane Harvey relief telethon on? You'll be able to find it on various channels.
The telethon, titled "Hand in Hand: A Benefit for Hurricane Harvey Relief," will air live at 8 p.m. ET on ABC, CBS, NBC, Fox, and CMT, according to Variety. There are already a lot of big name celebs attached to the event, including Beyoncé, George Clooney, Julia Roberts, Barbra Streisand, Reese Witherspoon, and Oprah Winfrey. Country singer George Strait will also appear on the telecast in concert at Majestic Theater in San Antonio, Texas.
Jamie Foxx, Karlie Kloss, Rob Lowe, Matthew McConaughey, Dennis Quaid, Kelly Rowland, Adam Sandler, Ryan Seacrest, Michael Strahan, and Blake Shelton are also set to appear during the telethon, either live or in taped segments.
The telecast will originate from the Universal Studios lot, and will also film in Times Square and Nashville's Grand Ole Opray. Proceeds from the event will go directly to aiding charities in the recovery efforts in Houston. Those charities include the United Way of Greater Houston, Habitat for Humanity, Save the Children, Feeding Texas, and the Mayor's Fund for Hurricane Harvey Relief.
The telethon was brought forth by music manager Scooter Braun, who represents Tori Kelly, Ariana Grande, and Justin Bieber, amongst many others. Braun and Allison Kaye, the general manager of Braun's SB Projects, are executive producers of the telethon, along with Den of Thieves' Jesse Ignjatovic and Evan Prager, and Houston-based rapper Bernard 'Bun B' Freeman.
Thus far, the death toll from Harvey has hit 63, and tens of thousand of people have been displaced from their homes that were damaged by the hurricane. According to ABC News, Harvey is estimated to be one of the costliest weather disasters in U.S. History, and with Irma now hitting Florida, the costs for the U.S. economy could be astronomical.
Millions of dollars have already been raised to assist in the efforts in Houston. Houston Texans football player J.J. Watt's Hurricane Harvey relief fund has reached $30 million and is still going strong. Additionally, various organizations continue to gather necessary toiletries, clothes, food, and water for the victims of Hurricane Harvey. However, the community is only just starting the recovery process, and there's still a long way to go.
Check out Romper's new video series, Romper's Doula Diaries: