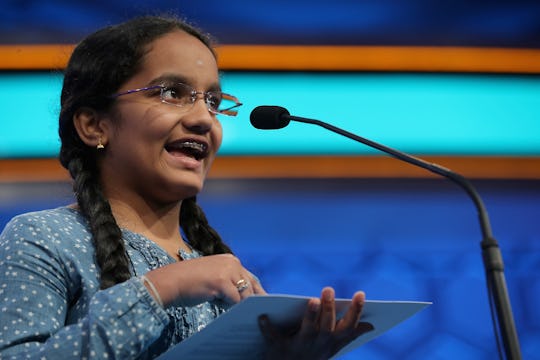 Chip Somodevilla/Getty Images News/Getty Images
What Channel Is The Scripps Spelling Bee On? Get Ready For The Drama
You guys. It is that time of year again, the time of year when you find yourself yelling at the TV that "phthalate" is spelled "P-H-T-H, for the love of god!" That's right, the national spelling bee is airing TK night, so naturally the question on every spelling bee spectator's mind is "What channel is the Scripps Spelling Bee on this year?"
Seriously, if you have not made watching this national battle of the minds an annual TV event in your home, you are missing out. There's a reason the Bee became the subject of the riveting (and hilarious) 2002 documentary Spellbound. You don't have to be a linguist or lexicographer, you don't even have to be great at Scrabble to love the spelling bee. All you need is a love of suspense and drama and a willingness to see that played out among some extremely verbal middle schoolers over the course of two anticipation-filled days.
The National Spelling Bee started in 1925 and has taken place every year since with the exception of the years 1943 through 1945, during World War II, according to the competition's website. This year 285 students from around the country are competing. Although the competition rules ban them from skipping school to prepare, many prepare for months in their free time. The winner gets the coveted trophy, of course, but also $40,000 in cash from Scripps, the newspaper company that is the Bee' main sponsor, plus a $2500 savings bond and a reference library from Merriam-Webster and $400 worth of hard copy and online reference materials from Encyclopedia Brittanica.
So how do you watch this year's showdown?
As the Scripps Spelling Bee website has posted where you pretty much can't miss it, the competition is airing on ESPN. The preliminaries are at 8 a.m. Eastern on ESPN3, because apparently there is more than one ESPN, and also there is evidently some rule somewhere that all academic competitions have to kick off at the crack of dawn. The first half of the finals air Thursday on ESPN2 (yup, that exists, too) at 10 a.m. Eastern. The final finals are Thursday at 8 p.m. Eastern, and you can watch them on the O.G. ESPN.
Get ready to yell at your TV, and care more passionately than you ever imagined about the spelling of "Laodicean."