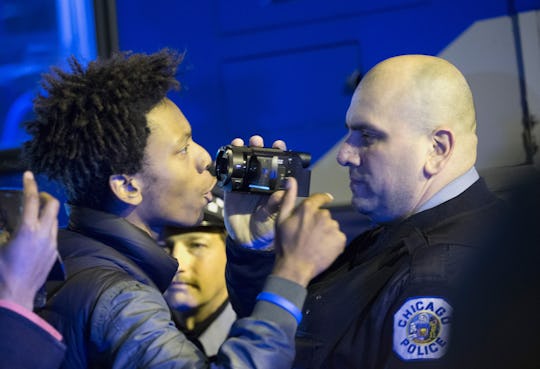 Getty Images
What Chicago Does Amid Unrest Will Send An Important Message About Police Violence
Officer Jason Van Dyke, the officer who was arrested for the murder of 17-year-old Laquan McDonald, was released Monday on a $1.5 million bond, fueling more protests in Chicago tonight. Activists are calling for the resignation of Mayor Rahm Emmanuel and Cook County State's Attorney Anita Alvarez. The big question now is whether the city will comply. Chicago's next step in the McDonald case stands to affect police and civilian relations tremendously, so its leadership has to proceed cautiously.
Many are alleging that there was an organized effort to cover up the shooting. The police dash cam video of McDonald being shot was released a year after his death and only after a court order forced the authorities' hands. Van Dyke was arrested just hours before the dash cam footage was released last Tuesday. Romper reached out the the Chicago police department for comment late Monday but did not immediately hear back.
There's also the issue of possible missing restaurant surveillance footage of McDonald's death. The manager of a Burger King a few yards from where McDonald was killed alleges that officers erased 86 minutes of video footage from Burger King surveillance cameras. Alvarez has stated that there had been no tampering with the tape, but a New York Times op-ed claims that it's blank from 9:13 p.m. to 10:39 p.m. McDonald was shot around 9:50 p.m.
An independent organization, IPRA, was reportedly called in to investigate the shooting, but NAACP activists say that the organization is still too close to the police to be entirely objective.
Hiring a truly independent investigator would be a clear signal to African-Americans that their concerns are important and being taken seriously. Protestors are already upset that the video took so long to release and that Van Dyke was released today on bail. Taking a real, objective look at any evidence that officials might have covered up details of the shooting that night is the only way to communicate that it matters. Anything else is akin to communicating to citizens that the police are not on their side.
Meanwhile Van Dyke maintains that he acted in self defense. His attorney, Dan Herbert, told NBC Chicago that his client has information to add context to the video. He said, "When you see the video alone, it does not seem like a justifiable shooting. It's a case that's absolutely defensible, and I'm prepared to present a defense."
Van Dyke's wife set up a GoFundMe account that raised about $10,000 of his bail before it was shut down, due to the company's policy of not hosting campaigns that are associated with criminal activity. The Fraternal Order of Police has stepped up and are now accepting donations on their own website.
It seems like it's all boiling down to pointing fingers and taking sides. And the more the police and politicians refuse to release information and defend the shooting, the protests in Chicago get much, much worse.
Image: Scott Olson/ Getty Images