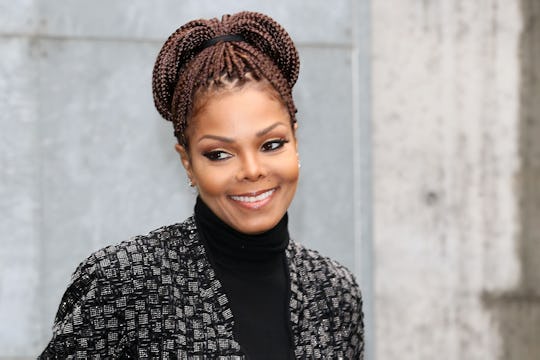 Vittorio Zunino Celotto/Getty Images Entertainment/Getty Images
What Could Janet Jackson Name Her Baby? She Might Turn To Family For Inspiration
After months of rumors, singer Janet Jackson finally confirmed her pregnancy last Wednesday to People Magazine, revealing her growing belly. Calling the pregnancy a "blessing," Jackson and husband Wissam Al Mana are expecting their first child some time in late November, according to OK! Magazine. The 50-year-old singer appears to be over the moon about starting her family, which has fans wondering: What could Janet Jackson name her baby? While neither Jackson nor Al Mana have officially revealed their forthcoming baby's name, plenty of rumors are already swirling.
First of all — is Jackson having a boy or a girl? Despite being recently seen shopping for baby furniture in London, there's no word yet on whether Jackson was buying pink or blue baby decor; the store was reportedly closed to the public for her private 45-minute shopping excursion, according to Us Weekly. Even without yet knowing the baby's gender, there are plenty of guesses that fans have made and continue to make. The first baby name guess among fans is certainly the most obvious: Janet Jackson might name her baby "Michael," in tribute to her late younger brother who died just over seven years ago. An unnamed source told OK! Magazine that Michael could definitely be a first or middle name.
Even without paying tribute to her late brother, Michael is a popular name in the United States: Michael was the eighth most popular boy's name in 2015, according to the Social Security Administration. But what if ends up being a girl for Jackson and Al Mana? "Michael" could easily be gendered to the feminine version, "Michaela." Of course, Michaela has far less popularity than its male counterpart. Michaela just barely made it into the top 500 names of 2015, coming in at number 496.
Something else to consider regarding Jackson's list of potential baby names is her potentially adopted cultural heritage. After Jackson married Qatari billionaire Wissam Al Mana in 2012, a London-based newspaper speculated that Jackson might have converted to Islam. While the singer has yet to officially announce any religious conversion — Jackson was born a Jehovah's Witness — her husband's Muslim faith could also play a role in their child's naming. As for whether Jackson decides to play tribute to her brother Michael or to her husband's Muslim background — or perhaps to something else entirely — fans will just have to wait and see once baby Jackson finally arrives.