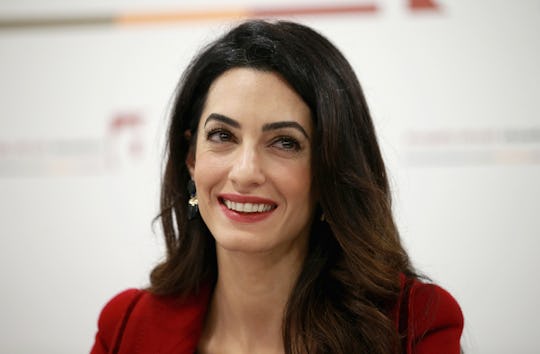 Chris Jackson/Getty Images Entertainment/Getty Images
What Did Amal Clooney Have?
On Tuesday, The Associated Press reported that Amal Clooney gave birth to her twins. But what did Amal Clooney have? The names seem to give the sex of the babies away — according to The Associated Press, the twins are named Ella and Alexander. US Weekly confirmed this report and noted that the twins are indeed one boy and one girl.
A statement from George Clooney's rep noted that all three are doing well. "This morning Amal and George welcomed Ella and Alexander Clooney into their lives. Ella, Alexander and Amal are all healthy, happy and doing fine," the statement read according to US Weekly. "George is sedated and should recover in a few days," the statement continued. (I can only assume this is a joking matter. Wake up, George. Your wife just had two babies.)
Ella and Alexander Clooney are the first children for both George and Amal Clooney, and man, did they get great role models or what? George is a successful actor and business partner and Amal is a high-profile, international human rights lawyer, according to People. (She definitely has the coolest job, George.) Despite being pregnant with twins, Amal didn't stop being a total bad*ss. People reported that in March, she spoke at the United Nations about the Iraqi government investigating genocidal crimes committed by ISIS. Talk about mom goals.
Currently, these are all the details available on the birth of Amal's twins, but fans everywhere are thrilled to finally hear some news. The Clooneys have been rather hush-hush about their future family, so it's exciting to hear the sex of the babies and their names. Did you expect anything less than Ella and Alexander from Amal and George? Gorgeous, strong names for what will definitely be gorgeous, strong children.
Now if everyone can just refrain from cracking jokes like "Amal and George don't even need any other children now. They've got the perfect set." A boy and a girl doesn't make every family perfect, and if it does make the Clooneys remain a foursome, I'm sure it's because they feel complete. With parents like Amal and George, I can't imagine that these kids will be pushed into any gender stereotypes or treated any differently. After all, when you've got a bad*ss human rights attorney for a mom, I'm fairly sure she'll have your best interests at heart.
Whether Amal had two boys or two girls, everyone would be just as thrilled. Congratulations to all four members of the Clooney family.