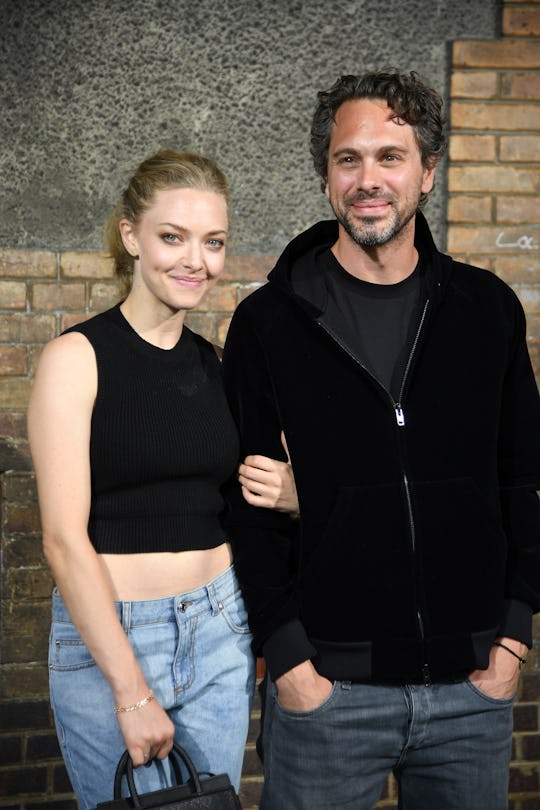 Pascal Le Segretain/Getty Images Entertainment/Getty Images
Mamma Mia! Amanda Seyfried Gives Birth To Baby Girl
Well, it looks like one of the famed Plastics from Mean Girls has just become a mom; Amanda Seyfried reportedly gave birth on Friday. Her rep confirmed that she and her husband, fellow actor Thomas Sadoski, welcomed a baby girl. Which I guess means the next generations of Plastics are on their way. No word yet on what Seyfried named her baby, but I for one am really hoping she named her Gretchen Weiner. That would just be so fetch.
Seyfried and Sadoski, who star together in the recently-released movie The Last Word, got married last Sunday. Actually, according to Sadoski, the couple eloped. He told James Corden on The Late, Late Show with James Corden:
We eloped. We just took off into the country with an officiant and just the two of us, and we did our thing ... We had a great day. It was perfect.
One has to wonder if Seyfried invited three potential fathers to the ceremony and asked them to randomly perform ABBA's greatest hits a la her role in Mamma Mia!. I really hope so. This is the first marriage for 31-year-old Seyfried and the second for 40-year-old Sadoski; according to ABC News, Sadoski's eight-year marriage to casting director Kimberly Hope ended in 2015.
Seyfried slyly announced her pregnancy news last November, about two months after People broke word of her engagement to Sadoski. At the press launch for the new Givenchy Live Irrésistible fragrance (Seyfried is a spokesmodel for Givenchy), the actress showed off her sweet little baby bump in a tiny black mini dress. She looked fabulous, of course, and quietly excited. Which makes sense; back in 2015, Seyfried was already talking to Marie Claire UK about her longing to become a mother.
I keep feeling like my eggs are dying off. I need to get on it… I want a child. Badly. I want to be a mother, badly. That's what I feel. I've been feeling it for like, two years. I'm not ready but nobody's ready. It changes everything… so how you can ever be ready for that?
Sadoski and Seyfried have been fashionably private about their relationship and pregnancy (although they have nothing on Ryan Gosling and Eva Mendes; those two have taken covert baby ops to a whole new level), but they did open up to E! while promoting The Last Word about becoming parents for the first time. Seyfried said, "I'm ready to go. I'm ready to meet the kid!" while Sadoski chimed in:
I'm terrified but I couldn't be more excited. She gets the singing. I do the diaper changing.
It's clearly an exciting time for the couple, and while we are all excited for them, we do really need to know what they named their baby. Like yesterday. Because until then, she's going to be called Regina George or Gretchen Weiner. The gauntlet has been thrown down.