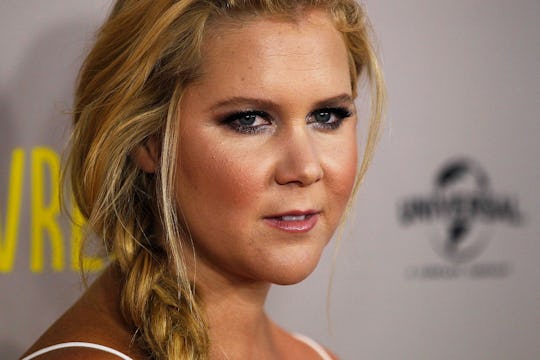 Brendon Thorne/Getty Images Entertainment/Getty Images
Amy Schumer Reveals What She Named Her Baby Boy With An Adorable New Photo
Just two days after she announced the birth of her first child, a son, Amy Schumer revealed what she named her baby. In a sweet Instagram post on Tuesday night, adorably showing off her baby boy's big brown eyes, Schumer told her fans that her son would go by the name Gene.
"Gene Attell Fischer," she captioned the heartwarming photo of her newborn cradled in her husband Chris Fischer's arms, adding: "And his dad Chris."
The name Gene has roots in American, Greek, and English cultures, meaning "well born," according to SheKnows. But Schumer's son's middle name appears to be a nod to another stand-up comedian and special friend of the new mom: Dave Attell. According to People, Attell had invited Schumer to do a surprise performance at his comedy show in New York City this past January.
In fact, during that performance, the pair even discussed baby names. As AV Club reported at the time, Attell had asked Schumer if she and Fischer had chosen a name for their firstborn and she replied, "Yes, we haven't told anyone this yet... Do you guys like this...Hitler? It's my mother's name."
The comedic pair seem to have a solid friendship, as Schumer cracked a few jokes at him during that same surprise appearance. At the show, as Vulture reported in January, Schumer told Attell, "Congratulations are in order for you, my friend, for surviving the #MeToo movement."
Schumer — who tied the knot with Fischer in February 2018, according to Vanity Fair — gave birth on Sunday, May 5, also revealing that exciting news on Instagram.
"10:55 pm last night. Our royal baby was born," Schumer captioned a photo of herself with baby Gene laying on her chest as Fischer gives her a kiss on the cheek.
If you've been following along with Schumer's pregnancy over the past few months, then you'll appreciate how on-brand her birth announcement was.
When Schumer first revealed her pregnancy back in October 2018, she hilariously shared the news with a photoshopped pic of her and Fischer's faces over a photo of fellow expectant parents, Meghan Markle and Prince Harry. Schumer frequently compared her pregnancy to Markle's and, yup, the two women gave birth within hours of each other. (In case you missed it, the Duke and Duchess of Sussex's first child, also a son, was born on May 6.)
Hopefully a playdate between Baby Sussex and Baby Gene with Markle and Schumer swapping parenting stories happens some day in the future. Until then, though, hopefully Schumer is able to get some much-needed rest and clock in some precious moments with her newborn after a pretty tough pregnancy. According to People, Schumer struggled with hyperemesis gravidarum (aka, very extreme morning sickness) and was even hospitalized for the condition.
And if Schumer's updates thus far are any indication of the type of motherhood content is to come, I think there will be loads of relatable parenting jokes ahead.
Congrats, mama! Baby Gene is a such a cutie!