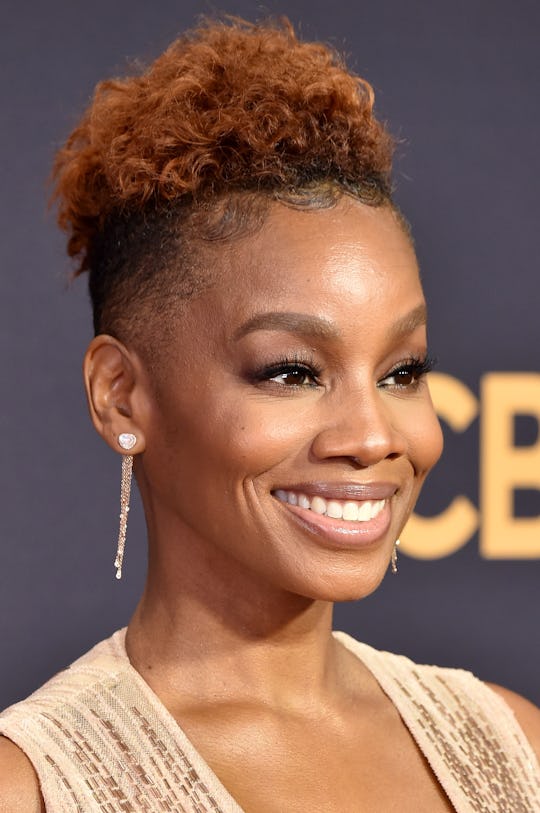 Frazer Harrison/Getty Images Entertainment/Getty Images
Here's What Happened With Anika Noni Rose & Cicely Tyson During The Emmys
The 2017 Emmys were filled with comedy, references to current events and politics, and a few awkward moments as well, like when Anika Noni Rose and Cicely Tyson took the stage. So while announcing the winner for Outstanding Limited Series, what did Anika Noni Rose whisper to Cicely Tyson at the Emmys? The internet has a lot of questions.
Look, Tyson is a renowned actress, who has appeared in shows like How To Get Away With Murder, and films such as The Help, Diary Of A Mad, Black Woman, and Sounder, for which she was nominated for both the Academy and Golden Globe Awards for Best Actress back in 1972. And while she may be 92, that doesn't mean she is any less important or that her presence doesn't matter. And so, while she was presenting the Outstanding Limited Series nominees, Tyson struggled a little bit with the teleprompter. And who could blame her? Those things move extremely fast, and they're so far away. I'm pretty sure I would have a hard time reading it, but Tyson handled it like a champ. And so did Rose, who kindly and patiently whispered into her ear what to say so that she could still have her moment.
Seriously, for being 92 years old, Tyson is looking, speaking, and acting like someone half her age. And if she needs a little more time reading the teleprompter, then she should get it. Tyson also said that she was "so nervous," which is also so completely understandable.
Being up on a stage in front of Hollywood royalty, with Oprah, Reese Witherspoon, and so many more legends looking on would be nerve wracking.
And Twitter was so compassionate as well. Fortunately, as awful as so many people on the internet can be, the general consensus surrounding Tyson was that she handled the situation with grace and dignity, and that everyone wanted to give her a big hug. While we couldn't hear exactly what Rose was whispering to Tyson, it seemed pretty obvious that she was reading the teleprompter to her co-host and helping her along with the script.
And honestly, so much of the world is obsessed with youth, no one really seems to respect their elders anymore, something that's seriously disheartening. Tyson has been through so much in her life, and obviously has more wisdom than many of us can even imagine. She deserves to be treated like the absolute queen and legend that she is, teleprompters be damned.
Speaking at St. Phillips School in South Dallas, earlier this year, Tyson reminded attendees that life is so much better if we all respect each other. "If we practiced the old adage of do unto others as you would have them do unto you, we would be a much better world," she said.
She went on to speak about the importance of diversity in Hollywood. "At last year's Oscars, there were no blacks," she said. "This year it's overwhelming and that means to me that there is some consciousness which will lead hopefully to some progress." And honestly, she's so right. Tyson has been around to see things change for the better in terms of progress and inclusion, but things still aren't where they should be.
While Tyson's character in How To Get Away With Murder may be more old-fashioned than viewers liked, she still rocked it. And her remark that, "[men] have been taking things from women since the beginning of time," still strikes an uneasy chord among so many. Tyson's portrayal as Viola Davis' character's mother was flawless, and her appearance at the 2017 Emmys was gorgeous as well. Tyson is the very definition of a living legend, and you know what? If she needs to pause while presenting an award, then let her pause.
Check out Romper's new video series, Romper's Doula Diaries:
Check out the entire Romper's Doula Diaries series and other videos on Facebook and the Bustle app across Apple TV, Roku, and Amazon Fire TV.