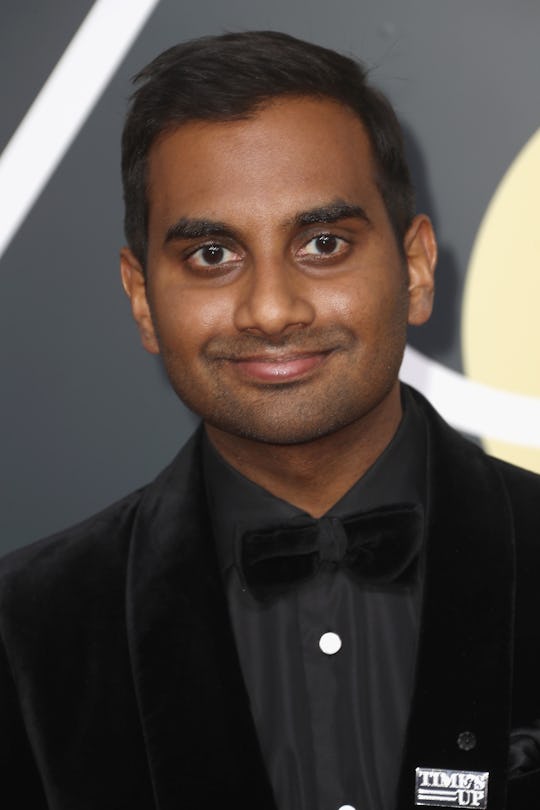 Frederick M. Brown/Getty Images Entertainment/Getty Images
Aziz Ansari Got Bleeped At The Golden Globes, But Here's What He Was Trying To Say
Sunday night was a big night for Master of None. Not only was the Netflix series nominated for two awards, but it seems actor Aziz Ansari had something interesting to say at the 75th Golden Globes. The actor won for Best Actor in a TV Series, Musical or Comedy. It was a pretty big deal for the comedian, even though he's reportedly not much of a fan of awards shows in general.
Still, it had to feel good when Ansari won for the second season of Master of None, beating out Black-ish's Anthony Anderson, I Love Dick's Kevin Bacon, Shameless' William H. Macy, and Will & Grace's Eric McCormack. Ansari's stamp is all over Master of None; not only does he play the main character Dev Shah, he also serves as writer, co-creator, and director. That's a whole lot of hats for one person, and to be celebrated at such a hugely influential awards show clearly cracked Ansari's cool exterior. Especially since he was clearly surprised by his win, as he noted in his speech:
"I genuinely didn't think I would win because all the websites said I was going to lose. The only reason my acting is good in that show is because everyone else holds me up the whole time."
Ansari went on to point out that it was great to win his first Golden Globe, particularly since he didn't win the first time he was nominated for his role in Master of None:
"I'm really glad we won this one, because it would have really sucked to lose two of these in a row."
And that's when things got a little... shall we say, censored. The next part of his speech was cut out of the awards show live coverage, presumably because there were some swear words in there and that is just not *done* on network television. According to an uncensored cut of his speech released on Twitter by the Golden Globe Awards, Ansari actually said:
"I'm glad we won this one because it would've really sucked to lose two of these in a row; it would've been a really sh--ty moment for me."
Classic Ansari, right? It also feels important to point out that he's the first Asian American male to ever win Best Actor at the Golden Globes, thank you very much.
The rest of Ansari's speech followed the usual thankful tropes fans have come to expect from awards shows. He thanked Netflix, which makes sense. Thanked his cast and crew... although some fans were not impressed that he failed to offer credit to Lena Waithe, the actress who played Denise on Master of None.
He might have forgotten to thank Waithe, but Ansari did have one important thank you to make; the entire country of Italy. Because who wouldn't want to thank an entire country for providing him with delicious food? That seems fair to me.
"I want to thank Italy for all the amazing food we ate in Season 2."
Clearly, this was a seriously historic night for Ansari. Not only was he the very first Asian American to win the Golden Globe for Best Actor, he also managed to get himself censored in the process. And while other people have definitely thanked countries in their acceptance speeches through the years, I seriously doubt anyone else shared such food-based gratitude.
I wonder if enjoying such a momentous night will change Ansari's attitude about awards shows at all? I hope so, because he manages to make the oft-dull awards season a little more entertaining. With his own particular, self-effacing sweetness. And a little bit of cursing.
Check out Romper's new video series, Romper's Doula Diaries:
Watch full episodes of Romper's Doula Diaries on Facebook Watch.