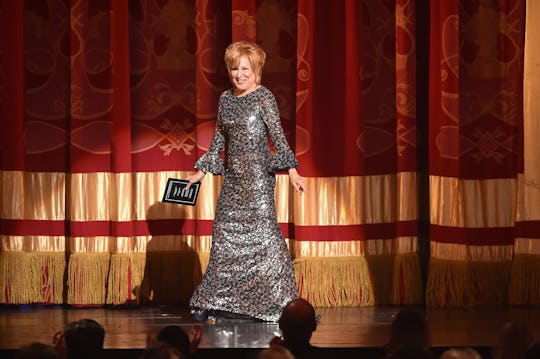 Theo Wargo/Getty Images Entertainment/Getty Images
Bette Midler Delivered An Epic Moment At The Tonys
The runaway favorite speech at the 2017 Tony Awards was Bette Midler's, which not only required censorship, but also literally stopped the show. So what did Bette Midler say during her Tony Awards acceptance speech? Well, for one thing, she shut down the orchestra, who foolishly tried to play her off as the show ran 14 minutes late.
But that wasn't her fault, considering that the formidable performer was taking home her first acting Tony at age 71. (She had previously won a special Tony for a 1974 revue show she did.) But this year, Midler won Best Lead Actress in a Musical for her work on Hello, Dolly!, which also won the evening's Best Revival of a Musical award. Midler won the crowd over early on in her speech, when she thanked "all the Tony voters, many of whom I have actually dated," which got a big laugh. She went on to gush about how warmly the Broadway theater community has embraced her and the production, but she also had a small critique for them.
"I can't remember the last time I had so much smoke blown up my ass, but there is no more room, so thank you," she joked. "This is the cap. This is the cherry on the cake."
But things got even more profane after that — profane enough for the telecast to silence her with a quick censor. While acknowledging the myriad production and crew members who helped her bring Dolly to life, she said of her hair team, "I want to say thank you to Campbell Young for the most beautiful hair on Broadway, and I am not sh*tting you people, not for one minute."
It was an extended riff following her thank you to her makeup artist Natasha Katz, whom she said, "makes me look 30 years younger than I am, what can I say? Natasha, marry me, please. OK, not 30 years, maybe not 30 years, let's make it 20. OK, I look okay. But Natascha is good!"
Midler continued on like this until, obviously, the orchestra began playing, as she had already been talking for several minutes. "Wait a second!" she yelled, to try and squeeze in an acknowledgement of her teachers. But once she wrapped up that portion of her speech, she still wasn't finished. She continued rattling off thank yous as the crowd cheered (and as her castmate Gavin Creel covered his face with his hands in the audience).
Finally, she got to the big kicker of her speech, and as she tried to regain control of the audience, she shouted to the orchestra, "Shut that crap off!" The audience loved it, and the orchestra eventually stopped playing for Midler's final word:
I just want to say that revival is an interesting word. It means that something is near death and it was brought back to life. Hello Dolly! never really went away. It has been here all along. It is in our DNA, it's in our national — Jerry Herman's songs will live forever. It's optimism, it's democracy, it's color, it's love of life, it's hilarity. This is a classic. Come and see it. It's absolutely — it's not just me! The whole thing is utterly — this thing has the ability to lift your spirits in these terrible, terrible times. Come and see it.
But she still wasn't finished! She ended by thanking Carol Channing and Pearl Bailey, who played Dolly before her, before finally leaving the stage.
This extraordinary performance even earned its own bit at the end of the night, when host Kevin Spacey as his House of Cards character Frank Underwood instructed Lin-Manuel Miranda to hurry up and present the last award "before Bette Midler thanks someone else." But her speech was a perfect way to reward fans who were bummed that she didn't perform earlier in the evening. In the end, she basically spent just as much time on stage as those performing musical numbers.