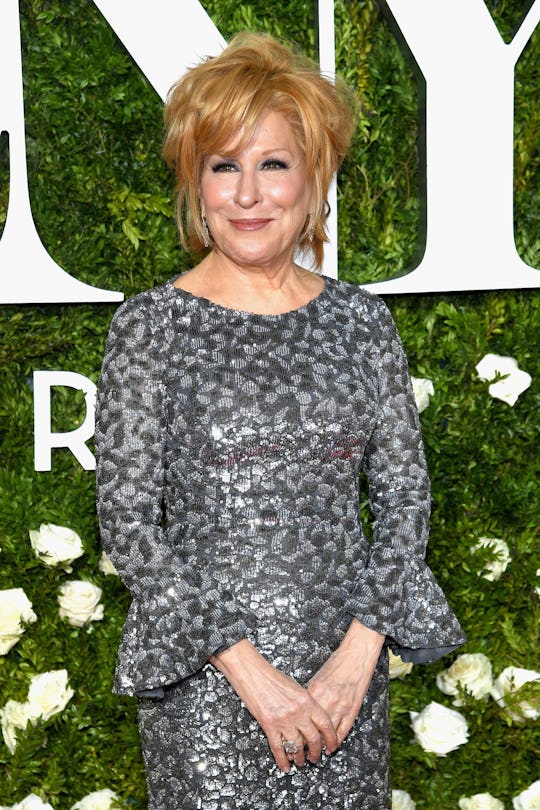 Dimitrios Kambouris/Getty Images Entertainment/Getty Images
Bette Midler Didn't Perform At The Tonys & People Are Confused
One of the most recognizable shows performing a number at the 2017 Tony Awards is nominee for Best Revival of a Musical Hello, Dolly! But its star, the even more recognizable Bette Middler, didn't get to belt out one of the show's classic songs on stage at the awards show, which has fans wondering: why didn't Bette Middler perform at the 2017 Tony Awards? It was actually unlikely to happen from the beginning.
Ten-time Tony winner Tommy Tune (yes, the announcers made the most of that alliteration), who played Ambrose in the film version of Hello, Dolly!, came out to introduce the musical based on Thorton Wilder's The Matchmaker. David Hyde Pierce, who is nominated this year for his role as Horace Vandergelder, came out to perform "Penny in My Pocket," which was cut from the original Broadway version but restored to the production for the revival. The number is a simple solo, performed in front of a curtain, so the performance didn't exactly have a lot of production value pizzazz. Midler did come out right after to present Best Performance by an Actress in a Leading Role in a Play, which went to Laurie Metcalf for A Doll's House Part 2. But she never performed.
According to The New York Times, the Tonys telecast purposely offered Hello, Dolly! "a prime slot" in the show in the hopes of getting Midler to perform the musical's title song with the whole cast. But Hello, Dolly! producers declined, saying they'd only perform an ensemble number if they could do it remotely from their home stage at the Shubert Theater. (Think along the lines of Hamilton's remote performance from the Richard Rodgers Theater at the 2016 Grammys.) Producers argued that the setup of Radio City Music Hall, where the 2017 Tony Awards were broadcasting from, was too different from their home stage and thus, too dangerous to perform its dance-heavy title song in. (They specifically noted Radio City's catwalk which cuts through the audience.)
While the Tony Awards have sometimes accommodated nominees wishing to perform numbers remotely, they've tried to end the practice in recent years in an attempt to avoid having to make the accommodation for all shows in the future. In truth, most casts who do their numbers on the Tony's stage perform imperfectly for having to adapt their well-rehearsed numbers to a different venue. It would be much more comfortable for all shows to perform remotely. But it would also be much more expensive for CBS, and way more boring for the Tony Awards attendees. So we missed out on a Hello, Dolly! number featuring the full cast this year.