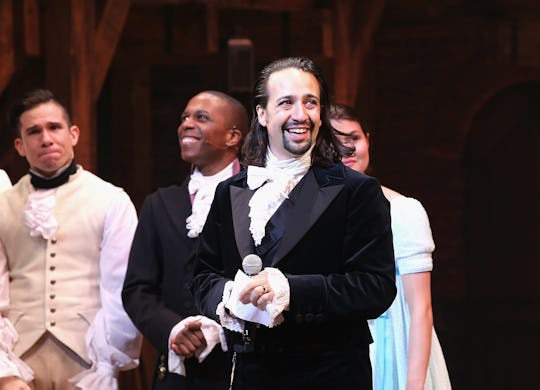 Neilson Barnard/Getty Images
'Hamilton' Grammys Performance Was Just As Incredible As Everyone Expected It To Be
You may not be able to find (or afford) tickets to the biggest Broadway show of the year, but if the Hamilton cast's stunning performance at this year's Grammys was any indicator, you may be too awestruck to even open up your laptop and search for them anyway. The talented crew of performers took to the Grammys mainstage on Monday night with the full force of the Hamilton fan base behind them, and with millions of at-home viewers tuning in, they certainly delivered. Not that anyone expected otherwise.
The hit musical — written and produced by composer/actor/singer/all-around magic man Lin-Manuel Miranda — has been on everyone's radar for a while now, debuting at at The Public Theater in February 2015 and making it to the big stage at the Richard Rodgers Theatre in August that same year. According to Playbill, the musical hit unprecedented ticket sales numbers within one month of hitting Broadway, raking in an impressive "117 percent of its potential gross, and commanding an average ticket price of $145.91", although those numbers would go on to skyrocket from there. (Currently, tickets to Hamilton range from a steep $311 for rear mezzanine seats, a mind-boggling $788 for front mezzanine seat, and a staggering average of $851 for orchestra seats.)
At the Grammys on Monday night, the reason for those unfathomable numbers was readily apparent, with audience members everywhere excitedly voicing their approval of the sweeping hip-hop inspired numbers, the perfectly coordinated choreography, and the impressive set-pieces (it didn't hurt either that Miranda as the show's eponymous lead was stoically and perfectly in character). From beginning to end, the goose-bump inducing number made a definite impression.
"[My Twitter timeline] fell silent....BECAUSE HAMILTON JUST KILLED EVERY SINGLE HUMAN ON THIS PLANET EARTH," wrote one viewer excitedly. Another fan simply enthused, "WOAH HAMILTON WAS LIT." (Yes, all caps.)
It seemed that nearly everyone tuning into the big Grammy Award ceremony suddenly turned into a Hamilton fan within minutes of the cast taking the stage — not that anyone expected anything different. "Just did our last run through. Colbert telling jokes, firing up the crowd," wrote Miranda earlier in the evening, as the cast prepared for it's highly anticipated performance. "It's electric at the Rodgers."
Without a doubt, the Hamilton cast made a few new friends after such an incredible performance. Of course, if you're looking to snag a few tickets for yourself, you'll need to practice saint-like patience: According to the Richard Rodgers Theatre ticket office, tickets for the show are sold out until September. But hey, at least you can rewind that DVR and relish in the cast's Grammy performance until then. Right?