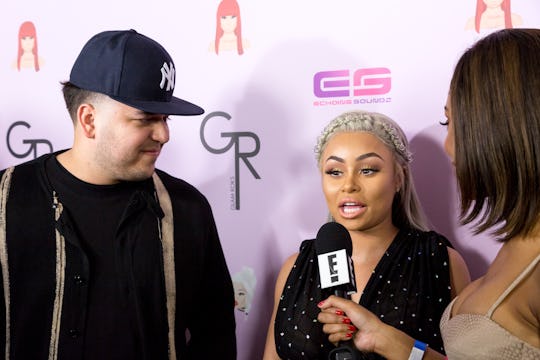 Greg Doherty/Getty Images Entertainment/Getty Images
What Did Blac Chyna & Rob Kardashian Name Their Baby Girl? They Broke With Tradition
Those who keep up with the Kardashians, even in the most casual and perfunctory way, are likely aware that black sheep Rob and his fiancée/sisters' frenemy Blac Chyna were expecting a child. In an apparent attempt to steal Donald Trump's thunder, the child has chosen Thursday to greet the world, and those wondering if Rob Kardashian and Blac Chyna's baby name starts with K will be disappointed. The third generation Kardashians branch out in the alphabet, and this one's no different. The newest Kardashian baby, a girl, is reportedly named Dream, according to E! News.
Dream is the sixth grandchild of Kris Jenner; her eldest daughter Kourtney Kardashian has three children with on-again, off-again boyfriend Scott Disick named Mason, Penelope, and Reign Disick, and middle child Kim Kardashian and her husband Kanye West have two kids, North and Saint West. See, not a K in sight! Dream was given her mother's middle name, Renee, and her father's last name. The baby was greeted at the hospital by Grandma Kris, as well as her other grandmother, Tokyo Toni. Interesting names appear to be a tradition on both sides of the family, so maybe that's something they can all bond over at Thanksgiving dinner later this month.
The history of Rob and Chyna's relationship is as complicated and messy as three seasons of Game of Thrones. People broke it down in January, but here's quick and dirty version: Chyna was once close friends with Kim, and attended her 2014 wedding to West with then-boyfriend Tyga, the father of her four-year-old son, King Cairo Stevenson. Tyga got friendly with the Kardashians, and three months after the wedding, he and Chyna split up. Chyna also distanced herself from Kim around the same time, and rumors began to surface that both relationships had ended because Tyga was dating Kim and Rob's little sister Kylie Jenner, who at the time was just 16 years old. Tyga was then 24.
Chyna's best friend Amber Rose (who is also West's ex-girlfriend), slammed Tyga in a radio interview in February 2015, claiming he left Chyna for "a baby." Tyga denied that he was dating Kylie, multiple sub-feuds erupted between the camps, and the couple went public a month later. They've broken up and gotten back together, bought each other cars and had them repossessed, and nobody knows from day to day whether they're together or not. The one constant was that the Kardashian and Jenner sisters did not get along with Chyna. Then, after years of animosity between himself and his sisters, Rob announced in January 2016 that he was dating Chyna. The two immediately moved in together, got engaged in April, announced the pregnancy in May, and announced their spin-off show in June.
Rob's sisters were none too pleased with the relationship, and have vacillated between trying to accept their future in-law and excluding her from her own baby shower. Rob and Chyna have broken up and made up numerous times. Seemingly every single member of the family, and peripheral member, has hated everyone else at some point. This should make for an absolutely amazing Christmas card. Good luck, Dream, you're going to need it.