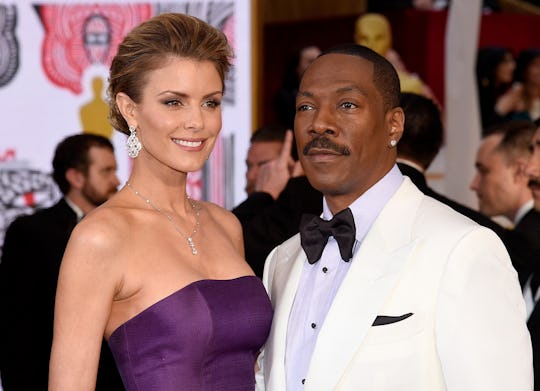 Kevork Djansezian/Getty Images Entertainment/Getty Images
What did Eddie Murphy Name His Daughter? The Actor's Big Family Is Still Growing
Have you ever wondered what ever happened to Eddie Murphy? The famous actor, musician, and comedian hasn't been in any movies recently, and for good reason. He and his longtime-girlfriend Paige Butcher welcomed a little baby girl on Tuesday morning, Murphy's ninth child and a sweet little addition to the already large family. So what did Eddie Murphy name his daughter? After so many kids, he and his girlfriend still managed to come up with a gorgeous name for the wee one.
Little Izzy Oona Murphy came into the world weighing 7 lb. 15 oz. and measuring 19.5 inches long. According to a representative for Murphy, both mother and daughter are doing well. The name Izzy is generally considered a short form of the name Isabelle or Isadore, and can mean "God is my oath", or "He will laugh". The name is Hebrew in origin, and can work for a boy or a girl. Izzy is one of those names that is recognizable nut not overly popular, and paired with the middle name Oona (Latin for "One"), it's a perfectly unique name choice. Little Izzy is the first baby for 36 year old Australian actress (Something's Gotta Give) Paige Butcher and, as I feel I should mention again, ninth for 55 year old Shrek star Eddie Murphy.
While Murphy and Butcher have been going strong since 2012, they have been careful to keep their relationship private, eschewing social media sites like Twitter, Instagram, and Facebook. When Vanity Fair asked Butcher about her lack of a social media presence in 2013, she told them:
I'm in a relationship with a celebrity, so I felt like there's already enough of me out there. I felt like I was giving out too much information. I was giving people too much access. I like to keep as much private as possible now.
After almost 40 years in the entertainment industry as a stand-up comedian, a musician, a television and movie actor and a celebrity with his share of scandals behind him, Murphy must find the lack of an online presence music to his ears.
Little Izzy Oona Murphy joins sibling Eric, (Murphy's son with ex-girlfriend Paulette McNeely), Christian, (with ex-girlfriend Tamara Hood), Bria, Myles, Shane, Zola, and Bella (with ex-wife Nicole Mitchell), and he shares daughter Angel with former Spice Girl Melanie Brown.
Which means two things; one, the grocery bills in the Murphy household must be horrendous (let's hope they have a Costco membership) and two, baby Izzy could very well be one of the luckiest babies around, to have all of those people waiting in line to love her.
Congratulations!