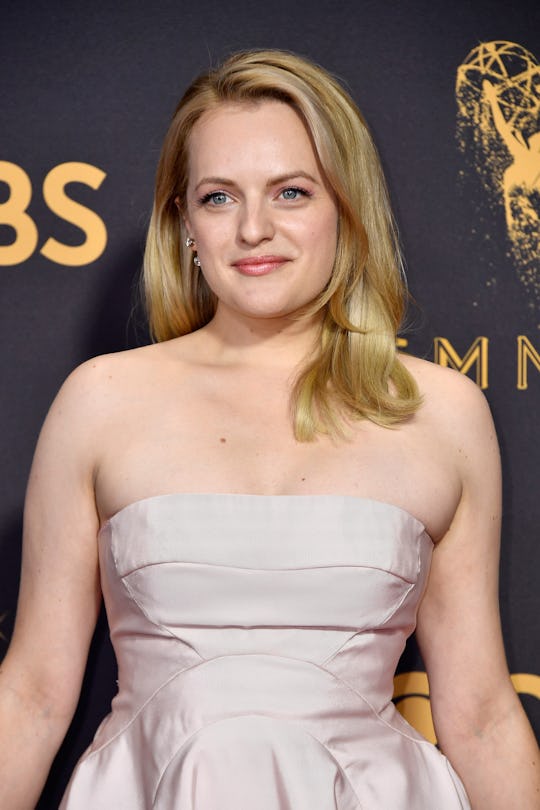 Frazer Harrison/Getty Images Entertainment/Getty Images
Elizabeth Moss's Message To Her Mom At The Emmys Is What Every Parent Needs To Hear
The 69th Primetime Emmys were pretty much a sweep for The Handmaid's Tale on Sunday night, and it was super exciting. For the director, for the writers, and most definitely for star Elisabeth Moss. Moss thanked her mom in her Emmy speech, but the end of the powerful message was censored. And here's the best part — her mom loved it.
Moss took home the Emmy for Best Actress in a Dramatic Series for her role as Offred in Hulu's The Handmaid's Tale (based on the book of the same name by Canadian author Margaret Atwood). Playing Offred, a woman living under the rule of religious fundamentalists who have taken away women's rights, was "personal" for Moss, according to a Sirius XM interview:
The material is more personal to me than anything else I've ever done because of the parallel paths that I have to walk. For me, as a woman who is a card-carrying feminist, these are all issues and things that are really important to me… I wish this was a fantasy; I wish it was sci-fi.
And just how did Moss come to be a card-carrying feminist? It seems at least partial credit is owed to her mom.
Moss, who appears to be a fan of profanity (she was "bleeped" as she crossed the stage, laughing, to accept her award, proving she could probably be my best friend), thanked her family for supporting her in her speech. Her brother for being her "best friend," and her mother for being "brave, smart, and strong," and for teaching her:
to be kind and a fucking badass.
Moss' mom, who was her date at the Emmys, got teary-eyed during her daughter's speech. And didn't bat an eyelash at the cursing. Because apparently, badasses must run in the family.
This is the first Emmy for Moss, who was previously nominated for her iconic role as Peggy Olsen on Mad Men. She had some incredibly stiff competition in the category this year as well; Robin Wright (House of Cards), Viola Davis (How to Get Away With Murder), Keri Russell (The Americans), Claire Foy (The Crown), and Evan Rachel Wood (Westworld).
The Handmaids Tale took home four Emmys on Sunday night, including the award for Outstanding Drama Series. Moss had her win, Bruce Miller took home the writing award, and longtime actress Ann Dowd won for Outstanding Supporting Actress. In her speech, she credited Moss as an inspiration.
The two actresses were clearly moved by their roles in The Handmaid's Tale, a story of courage and rebellion in the face of insurmountable odds. As Moss told Entertainment Weekly:
Margaret Atwood talks about that in order for a regime to take over, in order for there to be a coup, a lot of the elements of that new regime have to already be in place. And it is a quiet, slow burn, and when you look around and you see things like women's reproductive rights being infringed upon, like the right to protest, journalists' access, truth in journalism. When you see these things being infringed upon and rights being creepily, slowly stripped away, that's the time before Gilead. It's important that we all do look up from our phones and take notice.
The world is absolutely taking notice of Moss, and her unflinching honesty about being a badass feminist. The Handmaid's Tale, as well as the 2016 presidential election, have inspired an awakening in Moss that she told The Hollywood Reporter has rather taken her by surprise.
What I've learned is, now is not really a time to stand in the middle. You've got to pick a side.
Moss has picked a side, according to The Hollywood Reporter;
I'm a staunch believer in women's rights. I don't really give a s— about anybody who isn't.
Her mother taught her well.
Watch Romper's new video series, Romper's Doula Diaries:
Check out the entire Romper's Doula Diaries series and other videos on Facebook and the Bustle app across Apple TV, Roku, and Amazon Fire TV.