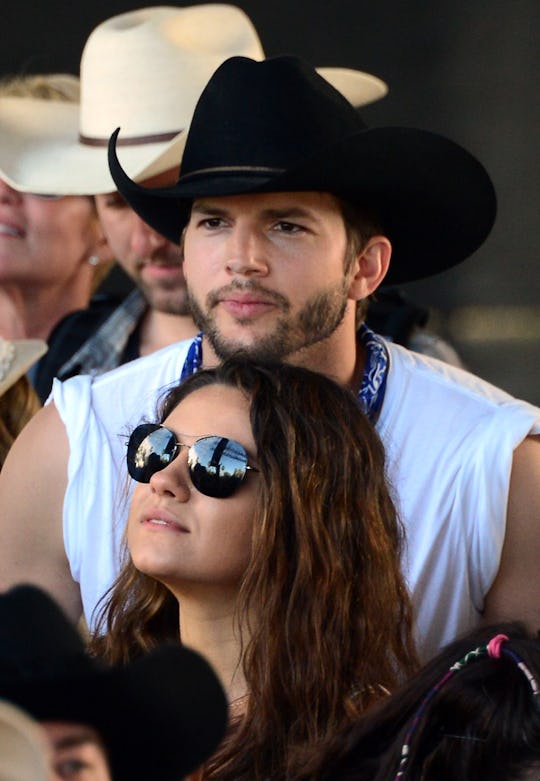 Frazer Harrison/Getty Images Entertainment/Getty Images
What Did Mila Kunis & Ashton Kutcher Name Their Baby Boy? He's Reportedly Just Arrived
It looks like Ashton Kutcher and Mila Kunis are about to hit the advanced level of parenting where you no longer outnumber your kids. According to E! News, the pair reportedly welcomed their second baby recently, and as most parents know, it's about to get real, and fast. So what did Kunis and Kutcher name their baby boy? And are we going to get a picture? (Romper has reached out to Kunis' rep for confirmation of the baby's birth and is awaiting a response.)
Update: In an email to Romper on Thursday evening, Kunis' representative confirmed that the couple had welcomed their second child, a boy.
Update 12/2/16: Ashton Kutcher and Mila Kunis revealed their second child's name in a post on Kutcher's website A Plus. Their son's name is Dimitri Portwood Kutcher and he was born at 1:21 a.m. on Nov. 30.
The couple haven't released the name of their baby boy yet, who was reportedly born on Nov. 30. Their little bundle of joy joins big sister Wyatt Isabelle, who was born in October 2014. Kunis and Kutcher were married in July 2015 in Los Angeles.
The two have kept most details about their latest pregnancy under wraps... except for that one time when Kutcher accidentally spilled the beans on the sex of baby number two while appearing on the Today show. Back in October, while sharing an anecdote about how little Wyatt was dealing with the pregnancy, Kutcher said:
She points to Mila and she's like, "baby brother" when she points to the belly and then she points to dad and she goes, "Beer," so I think she gets there's something in the belly but I don't quite think that she knows that it's not going to be a plastic doll yet.
Kunis and Kutcher were open about trying to prepare for the big leagues of parenting; multiples. A source close to the couple told E! News that Kunis was getting used to a lot less down time when she was pregnant with baby number two, which is a good thing because life is about to get a lot busier:
She is feeling good, although taking care of a toddler while pregnant is different for her than the first time around, where she could rest a lot more.
Kunis herself told Kelly Ripa on Live! With Kelly in July,
The second one, I'm running after a toddler, or working, so I'm like, "Oh, that's right: I'm pregnant."
Luckily, Kutcher is reportedly one of those thoughtful, supportive partners who understands how to prioritize giving a pregnant woman a break. That same source told E! News,
Ashton dotes on her though. He always carries Wyatt and doesn't want Mila doing any lifting at all. He has always been very hands-on, but he has really been taking over lately and trying to give Mila a break.
For now, though, I hope the couple is enjoying a little bonding time with their new baby boy. Soon enough, it will be two kids and moving and stickiness all the time.
And honestly? That is when the fun really, truly begins.