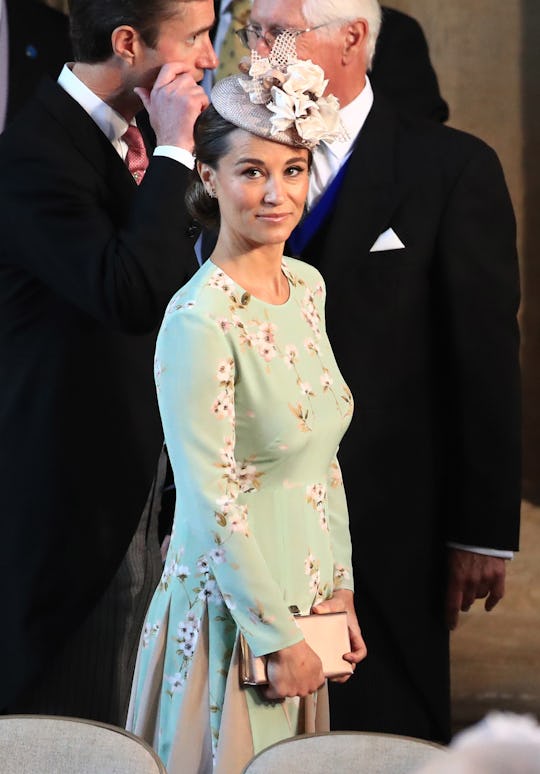 WPA Pool/Getty Images Entertainment/Getty Images
Pippa Middleton Has Reportedly Chosen A Very Meaningful Name For Her First Child
After watching her sister, Catherine, the Duchess of Cambridge, have three of the world's most high-profile pregnancies, Pippa Middleton clearly decided to take a much more low-key approach to motherhood. Though she, too, gave birth at the royal-loved Lindo Wing at London's St. Mary's Hospital, she was able to deliver her infant son with little fanfare, and has since remained mum on the experience. In fact, the details of her October delivery are so scarce that we're all still wondering what Pippa Middleton named her son. But there may be some insight now that the Daily Mail has reported that the little boy's name was actually inspired by multiple family members.
Middleton and husband James Matthews become parents to a little boy on Oct. 15, though they appeared to have little desire to open up about it with the world. The Daily Mail's royal correspondent Rebecca English confirmed the news on social media the following day, and shared that the couple had indeed had a son, and that he weighed 8 pounds, 9 ounces, according to Harper's Bazaar, but further details have so far remained a mystery.
On Sunday however, the Daily Mail claimed that the little boy's name was actually Arthur Michael William Matthews. Though the new parents themselves have not yet confirmed the report, their son's name does seem to be a sentimental nod to his relatives.
Though some preliminary reports suggested that Middleton and Matthews had chosen to name their son Michael, according to Irish website, Her, it seems that they've actually opted for Arthur — a traditional British name that has been climbing in popularity in recent years, according to The Independent. And though young Arthur may not have a royal title like his famous cousins, you wouldn't necessarily know it based on his name. Not only did the Duke and Duchess of Cambridge also choose Arthur as a middle name for their youngest son, Prince Louis, according to Us Weekly, it's also one of Prince William's middle names, and one of Prince Charles' as well.
But while baby Arthur's first name may connect him to his royal roots, his middle name, Michael, seems to hold even more special significance. Not only does it appear to be a nod to Pippa's father, Michael Middleton, it's also a way for the couple to honor Matthews' late brother, Michael Matthews, who died climbing Mount Everest in 1999 when he was only 22 years old, according to Us Weekly.
Since welcoming their son, Pippa and James have maintained a low profile — though they've been snapped taking him for a walk around their London neighborhood, they haven't actually shared any official photos or further statements.
While fans of the couple may have been hoping Pippa would continue to share details of her life as a new mom in her column for Waitrose Weekend, where she announced her pregnancy back in June and wrote about maternity health and fitness, according to the BBC, for now it seems to have at least been put on hold (if not finished altogether).
Though Pippa and James may be considered a celebrity couple due to their royal relatives, the fact that they don't actually have any obligation or expectation to exist in the public spotlight means that, actually, they probably have the best of both worlds. After all, unlike her sister, Pippa wouldn't have faced any pressure to appear in public after giving birth, nor would she have felt she needed to share any photos of her son, or allow photographers to witness events like his christening, for example.
Instead, she and her husband seem much more comfortable taking time to settle into parenthood privately — and while that may mean the rest of the world has had to wait to find out their son's name, I definitely can't say I blame them for making that choice.