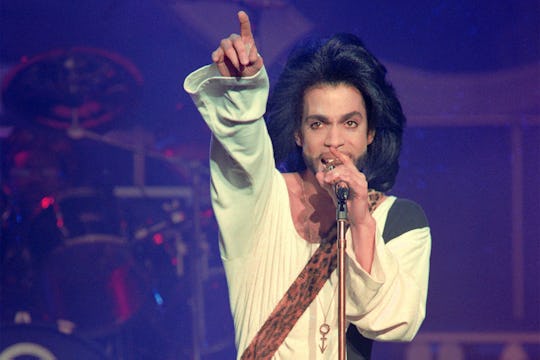 BERTRAND GUAY/AFP/Getty Images
What Did Prince Say To Will Smith The Night Before He Died? Smith Shared A Sad Message
The world will never be the same. It lost Prince, a legendary icon, Thursday, and his many fans that he's inspired throughout the years continue to mourn. Yesterday, Will Smith revealed on Facebook that he recently spoke with Prince – a conversation between two inspiring people. Fans can only hold on to their last memories of Prince, his last concerts, appearances, and last conversations, like, what he said to Smith the night before he died. Smith didn't reveal what was said, but it wouldn't be surprising if that conversation was filled with greatness and inspiration, because... it's Prince.
Smith wrote on Facebook that he was "stunned and heartbroken" to learn of Prince's death, after having just talked to him the night before.
I just spoke with him last night. Today, Jada & I mourn with all of you the loss of a beautiful poet, a true inspiration, and one of the most magnificent artists to ever grace this earth.
Absolutely.
There is, and will never be, anyone like Prince. So when news spread that the "Purple Rain" icon died at the age of 57 yesterday, fans around the world just couldn't process it. And the day after, many fans woke up wondering, what just happened?
Fans and celebrities, have continued to express their heartbreak on social networks. Smith's wife, Jada Pinkett Smith, also took to Facebook to share her thoughts on Prince, and how influential he was in her life.
Prince was one of the first artists to put me on game in regard to the industry. He was not only a genius artist, he was kind, funny, beautifully eccentric, curious, imaginative, magical, spiritual, rebellious and extremely intelligent. He showed me early the power of living one's life by one's own rules and no one else's. There are really no words to express what we have all lost today. To quote my friend Paress, 'Music has lost its heart beat.' Rest in peace Beauty... Jada
As fans work to hold on to memories of him — the singer, songwriter, producer and larger-than-life performer, the icon — it's important they keep his legacy alive. Sing his songs, and remember what he stood for, his unique sound, his boundary-breaking use of musical genres and expression of sexuality, his consciousness and outspoken views on equality, Prince was and is so important. Fans must keep his legacy alive so that future artists and those who aren't afraid to be different know that they aren't alone.