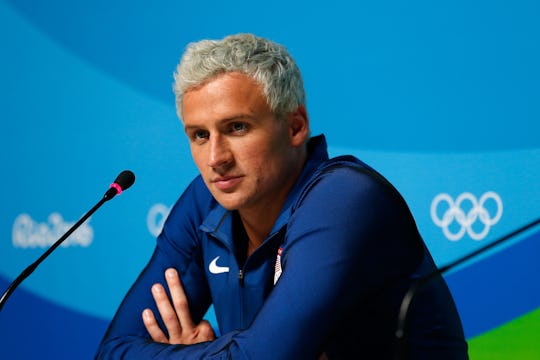 Matt Hazlett/Getty Images Sport/Getty Images
What Did Ryan Lochte's Robbery Report Say? Rio Police Have Issued A Search Warrant
Ryan Lochte might be back on American soil, but Rio police would still like to talk to him. Lochte, a 12-time Olympic medalist in swimming and fellow Olympic swimmer James Feigen went to the Rio police late on Sunday night claiming they were robbed at gunpoint. Apparently, the police were not quite satisfied with the swimmers' testimony and attempted to seize their passports on Wednesday for further questioning. While neither Lochte nor Feigen were made available for questioning, fans are wondering what exactly Ryan Lochte's robbery report said, and why police are seeking him out for further questioning?
There have been reports that Lochte has already returned to the U.S., but the Olympic Committee isn't giving any information away. The Washington Post reported that U.S. Olympic Committee Spokesman Patrick Sandusky gave a statement on Wednesday saying:
Local police arrived at the Olympic Village this [morning] and asked to meet with Ryan Lochte and James Feigen and collect their passports in order to secure further testimony from the athletes. The swim team moved out of the village after their competition ended, so we were not able to make the athletes available. Additionally, as part of our standard security protocol, we do not make athlete travel plans public and therefore cannot confirm the athletes' current location. We will continue to cooperate with Brazilian authorities.
The night Lochte was allegedly robbed, he spoke to NBC before giving his testimony to the Brazilian Police Department. He claimed to have been coming back in a taxi with three fellow U.S. swimmers from the French Olympic team's hospitality house around four in the morning when he was robbed.
We got pulled over, in the taxi, and these guys came out with a badge, a police badge, no lights, no nothing just a police badge and they pulled us over. They pulled out their guns, they told the other swimmers to get down on the ground — they got down on the ground. I refused, I was like we didn't do anything wrong, so — I'm not getting down on the ground. And then the guy pulled out his gun, he cocked it, put it to my forehead and he said, 'Get down,' and I put my hands up, I was like 'whatever.' He took our money, he took my wallet — he left my cell phone, he left my credentials.
None of the swimmers approached local authorities about the alleged robbery; according to police officials, officers began an investigation after seeing Lochte's mother describing the robbery to media outlets.
The Rio police have said they did not find evidence to support the claims of the U.S. swimmers, and a Brazilian judge ordered the four swimmers (Gunner Bentz and Jack Conger were with Lochte and Feigen on Sunday night) to remain in Brazil for further questioning. Lochte's attorney Jeff Ostrow told CNN on Wednesday that the swimmer is back in the U.S. and would not be returning to Brazil to answer any more questions.
"We stand by what he provided in that interview and signed off on," Ostrow said.
Rio Police have said that fake police stops like the one Lochte described are not uncommon, but have not been a problem in the area where his group was reportedly robbed.